Looking for ambitious DevOps engineers to join us in Riga!
You are an IT wizard, your heart beats for software engineering and you are looking for a fresh adventure. Ideally in a vibrant city where the Baltic Sea is close enough to touch…? Don't look any further! We are a passionate bunch of DevOps engineers building up a DevOps Center in Riga. And the best thing is: As we are backed by one of the leading Swiss IT providers, you can count on our teams in Switzerland and Rotterdam.
There are currently no positions open.
Be ready to build pioneering technologies of tomorrow! Innovation is the key to success.

Truly agile, diverse and passionate group of DevOps backed by leading Swiss IT provider.

No two days are the same! Combine everyday DevOps tasks with your own start-up idea.
Based in Switzerland, we are about 1000 IT experts and enthusiasts devoted to creating inspiring customer experiences and developing best quality services for Swisscom, the leading telecommunication and one of the country's leading IT providers. In addition, we have built a new DevOps Center in Netherlands in 2019. When it comes to Latvia, we are currently looking for 40 DevOps Engineers who are joining us in our office in Riga in the course of 2021. In the next few years we plan to grow to 200 employees.

Our ambition – to become the #1 DevOps team in Europe by the end of 2025! We work on innovative and challenging projects that use "state of the art tech" in an Agile environment. As DevOps engineers, we understand the equal importance of relationships, culture, soft skills, and collaborative working in a friendly environment. Be one of the first members to join and shape your new favorite workplace
Office on the 11th floor with a stunning floor-to-ceiling clear windows gives a great city view across the vibrant city of Riga.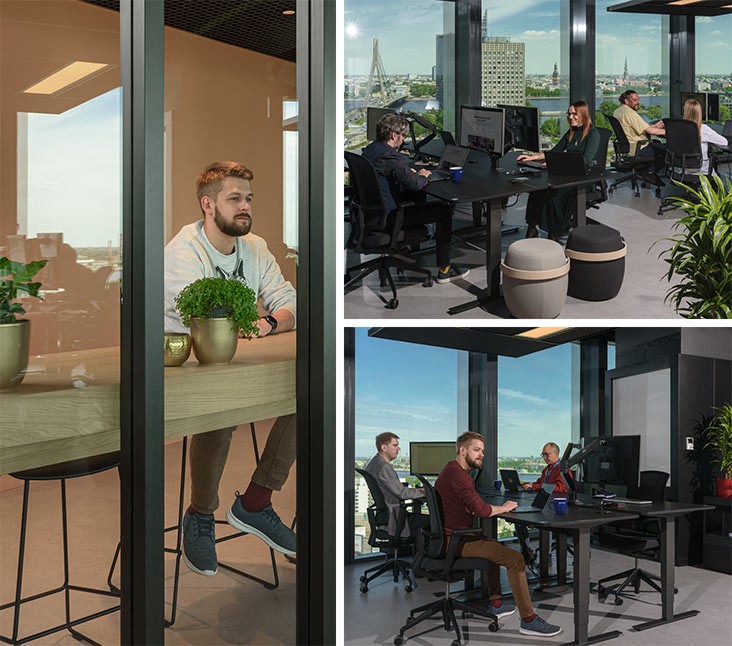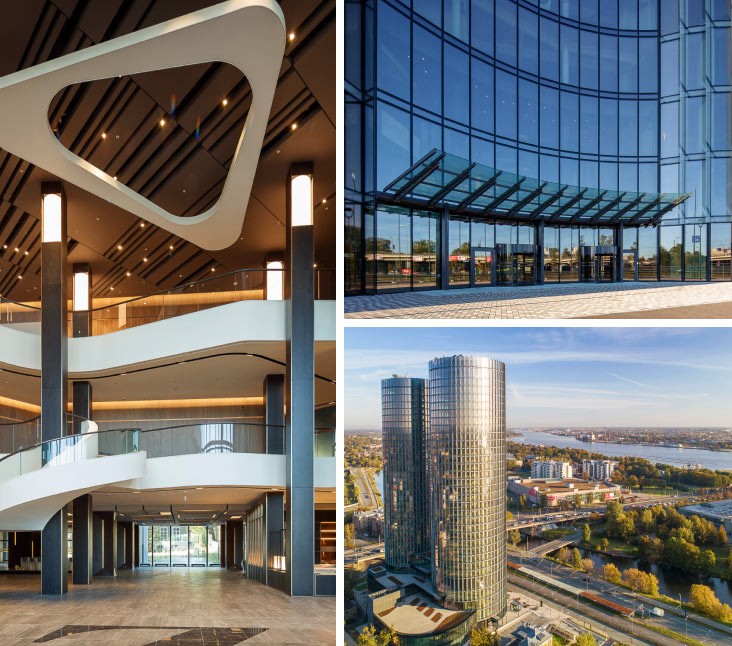 The most prominent building
Located near the city center across the bridge with a great infrastructure and parking for your car or bicycle.

Everything is built with the highest standards in mind.
Are you passionate about IT, keen on developing high quality software, have an Agile mindset and appreciate the collaboration with motivated colleagues from all over the world? You are a person who enjoys challenges and doesn't mind failure or when things go wrong. You like to learn and continually improve yourself. Most of all, you want to be part of something new. If this sounds like you, let's talk.
You're ready to value continuous learning, to enhance your skills steadily and build-up mastery in what you do.
You know the advantages of Agile methods. You enjoy working in Agile structures. And your're proud to contribute to a culture of "relentless improvement":
You focus on customer value and outcome and you like to get stuff done. You're committed to take responsibility for what you do, and you speak up when you think that your leaders or peers are wrong.
You love to try things and seize an opportunity. You're keen to go other ways, to experience new methodes and to work with cutting edge technology.
You know your field and how to use your skill set. You're proud to contribute your share to create beste quality software, groundbreaking innovation thus increasing customer value.
As part of agile team, you enjoy solving challenges together with great colleagues, sticking to your promises and assume joint ownership for the team's results. You like to contribute to a "no blaming" culture, that encourages open feedback and mistakes are part of the collaborative learning process.
Riga: Nostalgia meets Modernity
… and a vibrant city meets untouched nature! In case you don't know Riga yet: Here you'll find the highest concentration of Art Nouveau architecture in the world. As well as many sights which are of UNESCO world heritage. After work, you'll reach the sea or pine forests in about 20 minutes. You're more of an early bird? Then grab your SUP board to enjoy the sunrise in Ķemeri wetlands. You see: Besides working, lots to discover in Riga's active and culture life with (free) concerts, festivals, stunning architecture, local markets, … . And if you'd like to escape for the weekend or receive visitors from all over the place: Riga is very well connected.