Are you opening a café, hair salon or shop? Or maybe you're expanding your branch network? Congratulations – this is a big and courageous step into the future! We have compiled eight questions for you that are important when deciding on a new POS system.
Clicking on the links will take you directly to the specific questions:
New! Business POS from Swisscom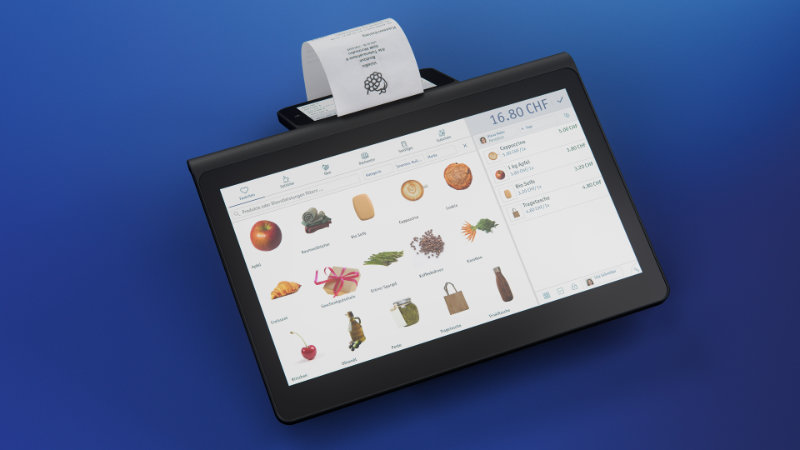 Make everyday tasks more convenient with Business POS, the new POS solution from Swisscom that integrates your warehouse, online shop, online reservation system, customer management and more.
There are many reasons to consider a new POS system or software. Even after you've been open for some time. Maybe your current POS system has served you well for years but is now outdated and does not offer staff planning support. Or maybe it is out of action on a regular basis or your IT partner has to be recommissioned and paid every time you make a change to your product range.
1. Which basic features do you need?
A modern POS system is much more than just a cash register. You can use it to centrally control all activities at the point of sale (POS). Ask yourself which features are important to you.
A modern POS system…
has open interfaces for accessories. A cash drawer, receipt printer and payment terminal are included as a minimum.
provides several cashless payment options.
is expandable and compatible with accounting and merchandise management programs or online reservation systems, for example. Ideally, you can use integrated software modules without incurring additional costs.
simplifies daily closing, transfers all data to your accounting system and accounts for VAT.
offers simple analysis and shows, for example, top and flop products or days with the highest turnover in a dashboard so that you can deploy staff sensibly, buy the right products and increase sales.
is directly connected to your merchandise management system and automatically reorders products that run out or alerts you to this issue.
stores all data centrally so that you can access it anywhere and at any time with your computer, smartphone or tablet.
is compatible with your shop software if you run an online shop and want to link it with your POS and merchandise management systems. Here, too, there are integrated online shop solutions. This allows you to reduce the number of interfaces.
Important: the POS system should relieve you of as many time-consuming routine tasks as possible so that you can focus on your customers or guests.
2. Which industry-specific features do you need?
A modern system offers all the basic features and can be adapted to your individual needs with little effort.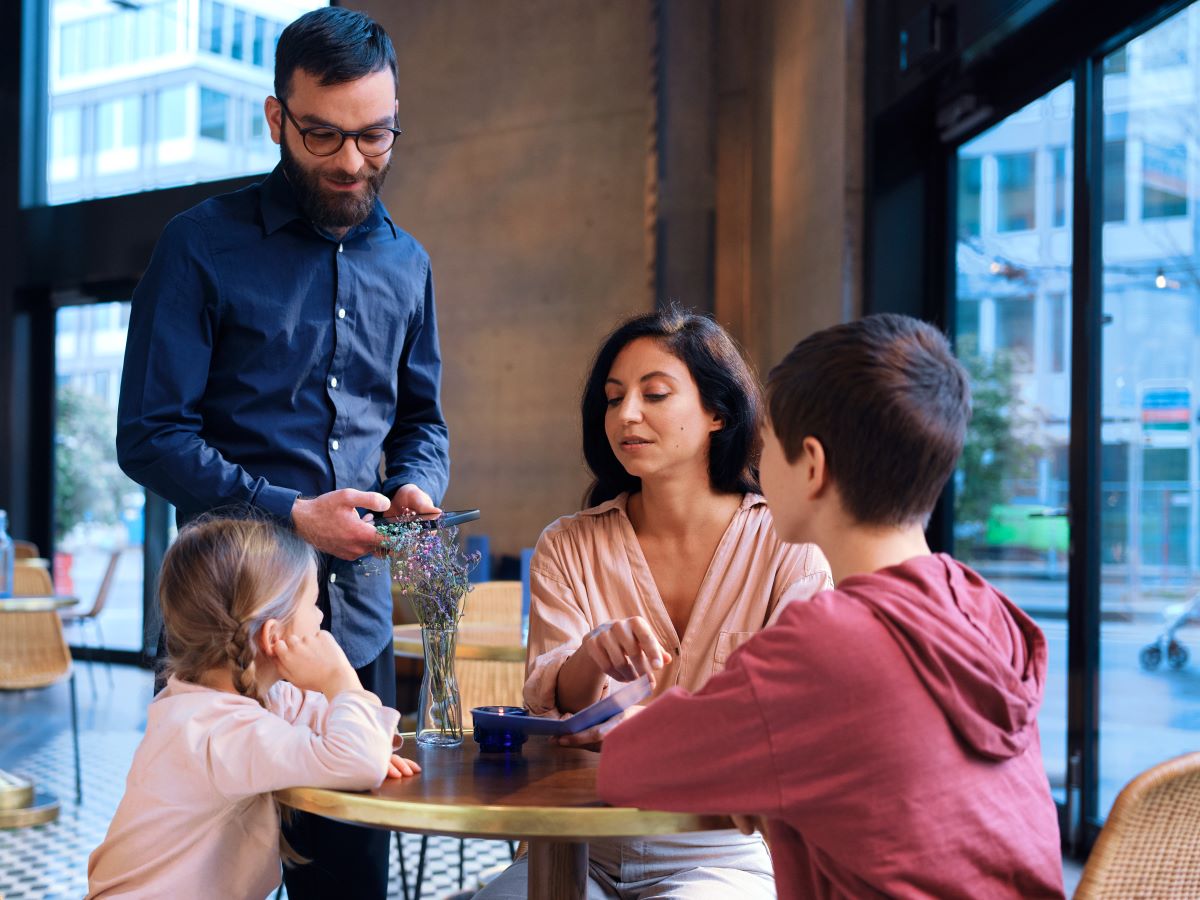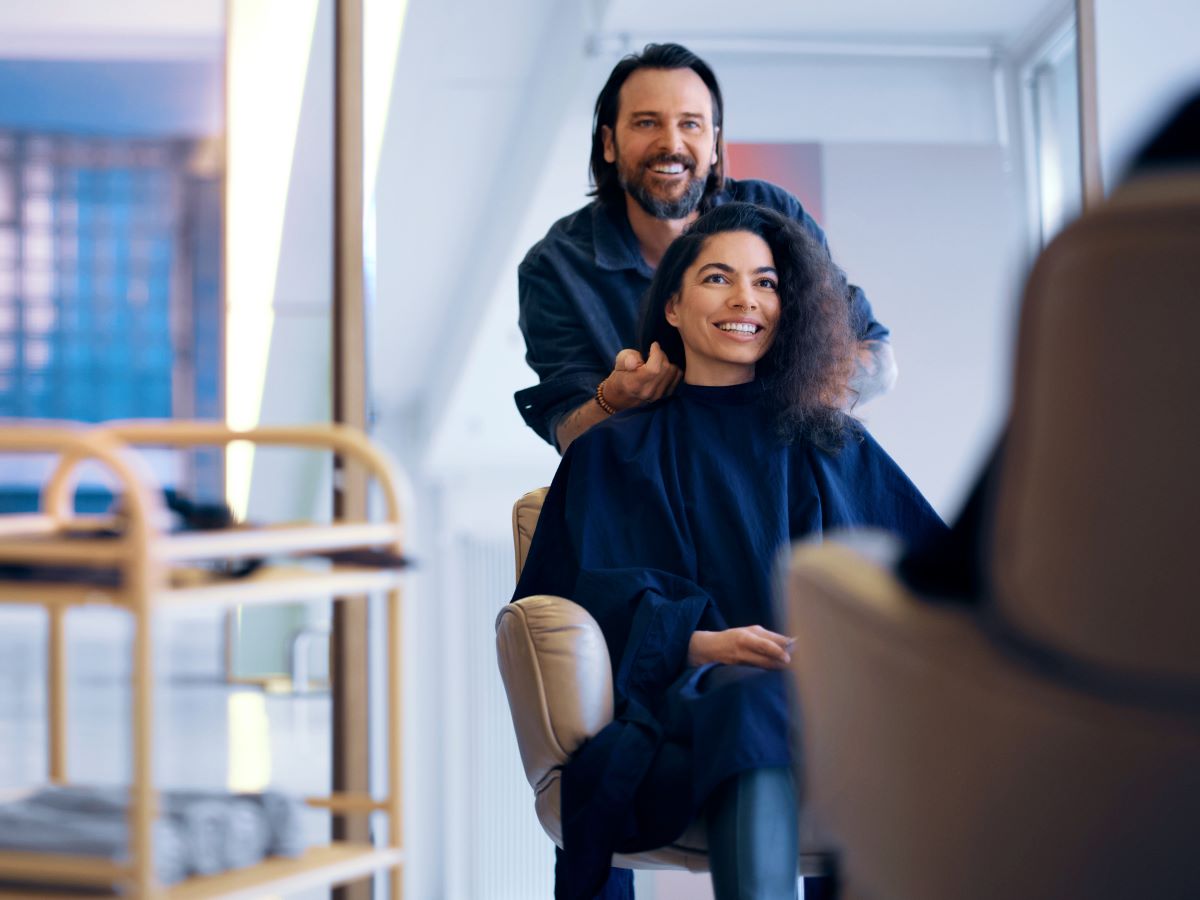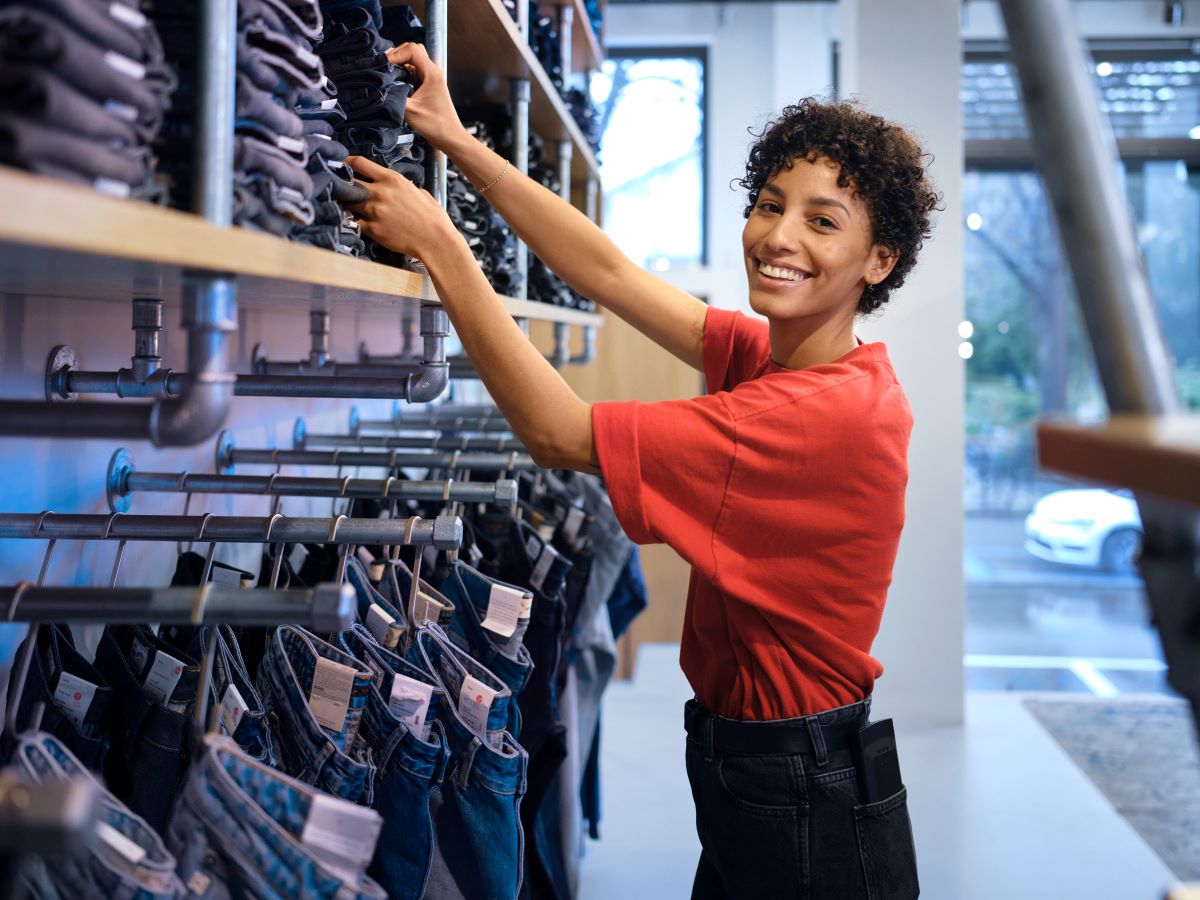 Bar, café, food truck or restaurant
With a modern POS system (stationary and/or mobile devices) you can, among other things:
plan staff and assign shifts
offer an online calendar with table reservations
take orders at the table and automatically relay them to the kitchen
automatically adjust prices on a time-controlled basis, for example during happy hour
accept cashless payment or, if desired, simply split bills without any manual addition
Hair and beauty salon
With a modern POS system you can, among other things:
plan staff and assign shifts
offer an online calendar that customers can use to book appointments with their desired stylist or beautician
keep customer files and note customer requests
issue vouchers digitally, for example for discount campaigns or loyalty cards, and send them via SMS or email
generate sales statistics and manage your warehouse
Retail trade
With a modern POS system you can, among other things:
plan staff and assign shifts
identify bestsellers and plan promotions to boost sales
pinpoint the best times and adjust your opening hours
issue customer or discount cards digitally and send them via SMS or email
manage returns and your warehouse, and also reorder products
3. How easy is the POS system to operate?
The easier the POS system is to operate, the faster you can work with it. This saves you time and money during introduction and reduces the risk of operating errors that may annoy customers or guests. It is important that the most popular products and features are directly accessible, preferably on the first screen. With a well thought-out system, you can create different profiles (for example for different locations), add or remove products and images, and adjust prices without outside help.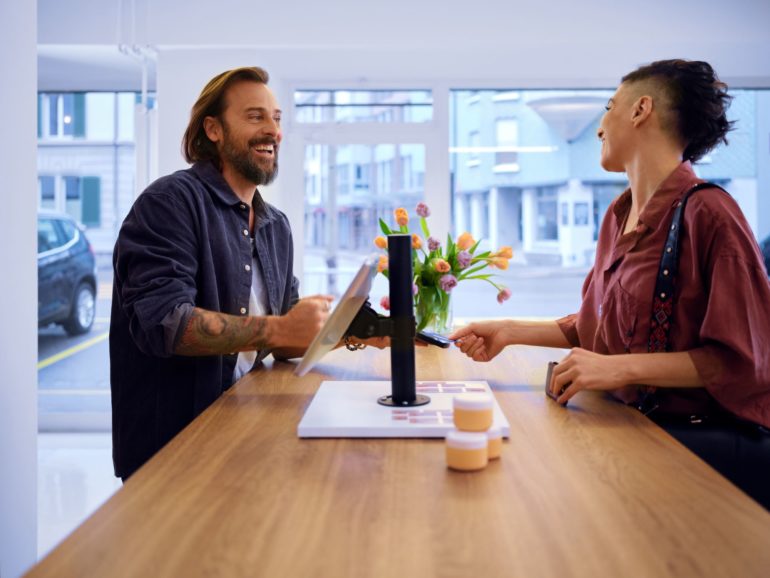 4. How good is the customer service really?
There are providers who only give you the hardware and a manual. Others support you with the installation. If you want to play it safe, choose a provider that offers initial training and, for example, a month of free support in addition to on-site installation.
If you have questions or the POS system fails, support times play an important role. Especially when customers or guests have to wait. Choose a provider with a free hotline that can be reached outside of office hours or at weekends and can help quickly. On the phone or, even better, via remote access. Clarify how quickly the POS system can be replaced in an emergency.
5. How secure is the POS system?
Modern POS systems store data in a data centre. The data is available there around the clock, regardless of location, and is safe from theft, fire and water, unlike a local POS system. Reliability is just as important as data security. A model with a SIM card as an alternative is always connected to the internet, even if the dedicated line should fail. Choose a proven system from a reputable provider that regularly updates its software. Your POS system will then be protected against attacks and remain compliant with all legal requirements.
6. All things considered, how much will the POS system cost?
You can buy or rent a POS system. The price depends on the features and is difficult to compare because POS systems offer different features and benefits. Don't just compare prices, but also what is included: for example, adding products and entering prices at the beginning, installation and networking, or training. If you choose to rent, are backup and updates included?
A modern POS system with hardware, software, licences and support services costs about CHF 90 to 160 per month. There are often additional costs for online shop, online reservation and other modules. Pay attention to how much customer service is included and what costs extra. An offer that looks cheap may be anything but if, for example, you have to pay extra for a licence or support for each device.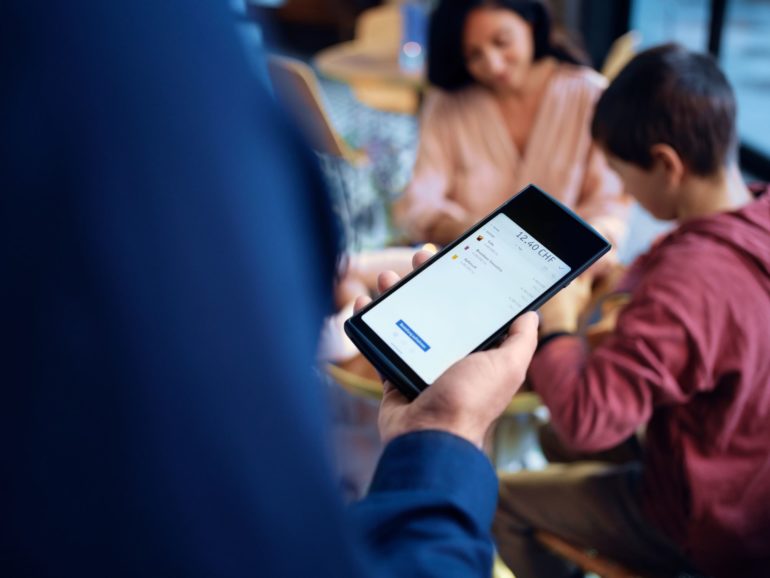 7. What peripherals and infrastructure do you need?
Interfaces and peripherals are often forgotten when choosing a POS system:
Do you have enough power sockets and a reliable internet connection?
Do you need a stationary POS system with a large display and/or mobile devices?
Do you have enough space for a stationary POS system on your shop counter?
Do you want to integrate existing devices, such as printers or scanners?
Does the POS system have to be Android, iOS or Windows compatible because of the peripherals?
Do you need a system for one location or do you want to network several locations?
8. Is the POS system future-proof?
Cloud-based POS systems are expandable. You can start with one POS device and expand the system step by step, such as with a second POS device or a new location. It is important that you can supplement the system with stationary or mobile POS devices, network it with POS systems at other locations and manage it centrally from one place. You should also be able to expand the system with additional devices such as printers or scanners. If the provider regularly updates the software and continuously integrates new payment features, you will be prepared for the future and your POS system will grow with you.
New! Business POS from Swisscom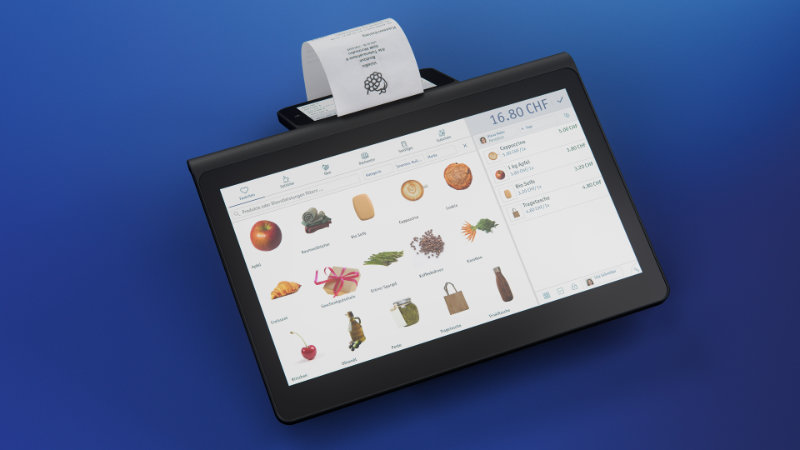 Make everyday tasks more convenient with Business POS, the new POS solution from Swisscom that integrates your warehouse, online shop, online reservation system, customer management and more. Try the online demo to find out how you too could benefit.