In the first part of "Think business with Penny Schiffer", we dived deeper into SME sales. Now we want to take a further look into enterprise sales, which, by comparison, is a very challenging and lengthy process. On the other hand, contracts with corporates are bigger on average – so you need less customers to achieve the same revenue.
A high number of start-ups prefer to focus on SME sales because success can be achieved in less time with the same effort. It's really important to get to know the rules of the game when entering enterprise sales. In my experience in dealing with founders, I have noticed that relatively few people understand what is involved in selling a service/software to a corporate. Sure, if you can solve a problem for a big corporate you´ll be able to charge much more for a licence because you can address many more users in one go. Corporates have bigger pockets and can give you much more visibility as a reference customer, helping you to find your way into smaller companies.
Short example
As an illustration, I will take the example of a chatbot development start-up making customer service centers more efficient.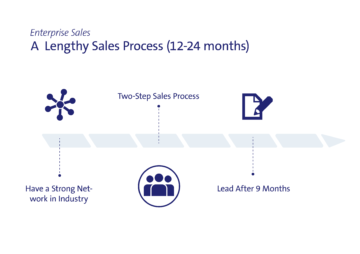 There are some assumptions to make when building a model for selling to enterprises:
The time from initial contact to signing a deal and sending out the first invoice will typically be around 9 months, so be prepared for the longer lead time.
Pilot projects can lead to recurring revenues but are often not run by the same person who controls the budget for implementation in real operations.
It is often very hard to achieve anything with cold calling or by pouring money into online ads. Instead, you need to hire someone with a network in the industry. Such a person may cost CHF 150-180K and still needs a lead time of several months to over a year before you see any concrete results or find out that you missed the boat.
Start-ups often overestimate their ability to deliver at the scale and quality required for a bigger corporate. If you want a corporate to use your chatbot in a real client situation, it has to be up and running and fulfill all legal and business requirements.
Initially, you will need to adapt a lot to corporates' individual requirements by installing solutions on premise and meeting specific needs. This leads to a lot of non-scalable professional service activities which are hard to scale back in favour of license fees.
Conclusion
While corporates are very attractive customers to have, try to enter this field with people on board who know how to sell here and prepare for much longer sales cycles.
Bild: Benjamin Child /Unsplash