In April 2015, Swisscom has introduced a new range of Powerline adapters :

---
These adapters allow wireless connectivity using existing electric wires, and they fit perfectly for connecting one or more TV-Box that are not in the same room as your router.
These new adapter have the connection feature only, they cannot measure power consumption or remotely switch a device ON/OFF. Another device will allow those features, it will be introduced later. It has the same housing but it is white and green (the connectivity devices are white)
They are available :
As a starter kit (pair of adapter) to connect wirelessly one device: the Powerline Connection Kit;
As a single adapter to connect wirelessly an additional device: the Powerline Connection Adapter. To use the Powerline Connection Adapter you need to install a the Powerline Connection Kit first.
---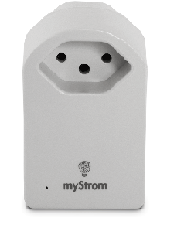 LEDs
There is only one LED :
Off : no power supply
White : Powerline connection OK
White blinking : pairing ongoing
Red blinking : no Powerline connection
---
Strong points
Network connection through the existing electrical network up to 100 Mbps
Simple installation (Plug & Play)
Compatible with Swisscom Internet Gateways (Internet-Box, Centro family)
Compatible with Swisscom TV-Box (Mediaroom and TV2.0) or any device with a Ethernet port (e.g. TV-Box, computer or game console)
Convenient with the pass-through feature (integrated power socket and network filter) – power outlet is not lost
Low power consumption (less than 3W under full load), integrated power save mode
Secure/encrypted transmission (AES 128 bit)
Very compact housing
---