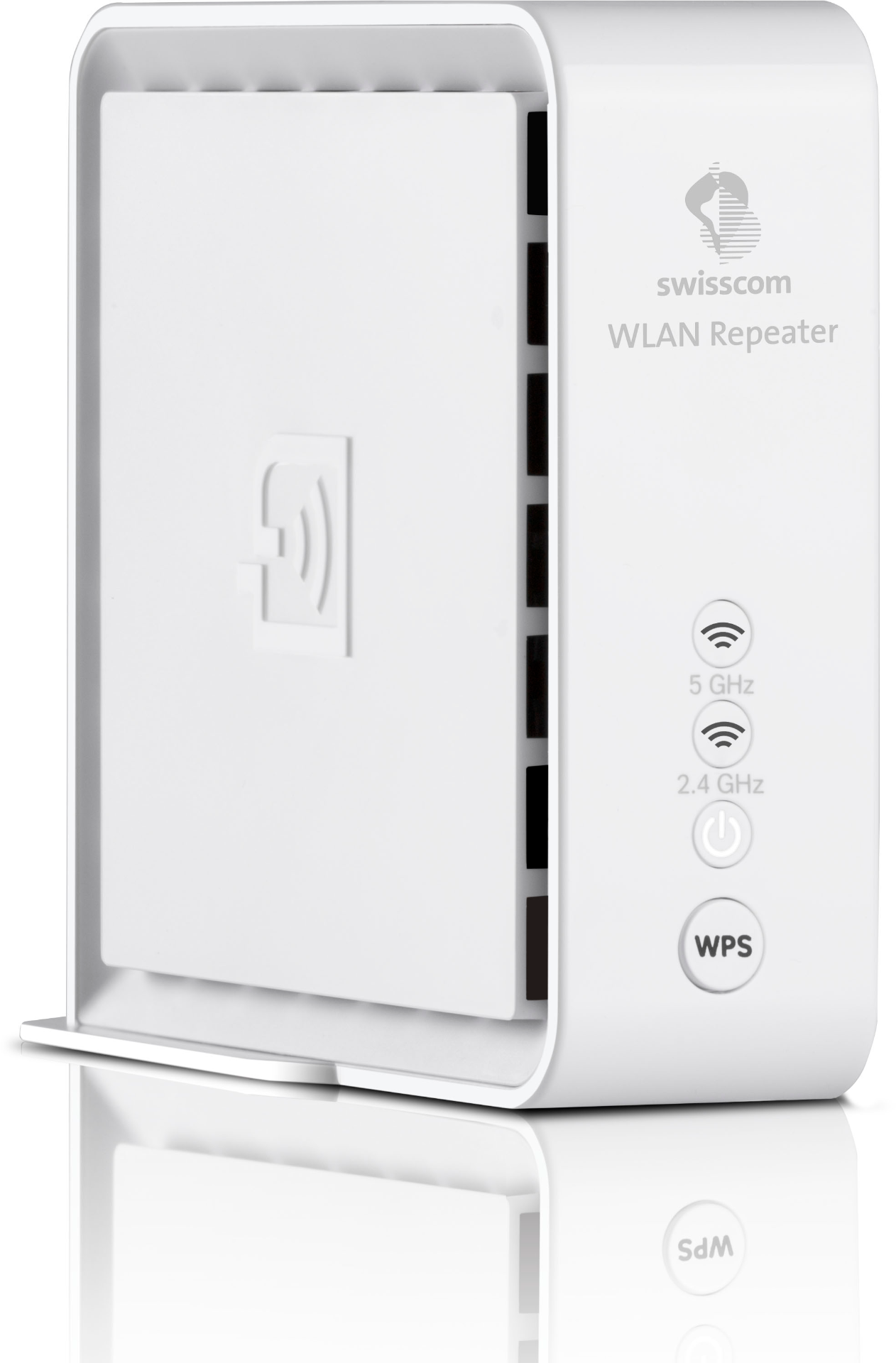 The WLAN Repeater extends the coverage of your WiFi network while offering an excellent performance. It is compatible with all WiFi-enabled Gateways and Routers as well as Swisscom Access Points. DualBand, it makes the most out of 5GHz devices such as the Swisscom Internet-Box, Magic-Box and WLAN-Booster.
---
The WLAN Repeater integrates the latest technologies, is simple to install and allows a fast and reliable Internet access in all the rooms.
---
| | |
| --- | --- |
| | Note: The WLAN Repeater is NOT SUITABLE for a WiFi connection with the Swisscom-TV 2.0 Box! |
---
---
---
---
---
LED
From the top, during normal usage, only one of both LEDs – the 2.4 or the 5 GHz LED – is lit and not both.
---

5GHz LED (green or red)
this LED indicates the status of the connection between the Gateway/Router and the WLAN Repeater.
This LED is continuously lit green if the connection is established and its quality is good.
This LED blinks green when the connection is being established or when the manual pairing process (WPS) has been initiated (during the WPS pairing, both 2.4 and 5GHz LEDs are blinking green, at the same time).
This LED is continuously lit red if the connection has been established but of mediocre quality. Please place the WLAN Repeater closer to your Gateway/Router.
This LED is blinking red if no connection at all could be established. Please refer to the Chapter "installation problems or if the connection is lost". If both 2.4 and 5GHz LEDs are blinking red at the same time, the WLAN Repeater has not been installed yet or it has just been reset.
---
This LED is continuously white when the Repeater is electrically powered
This LED is blinking white once the Reset has been initiated (to do so, push a paper clip into the Reset hole at the back of the Repeater for 4 seconds).
---
---
---