Protect your devices and digital identity, and surf the web safely. Also receive immediate help following a security incident as well as additional IT products, such as M365 or web hosting, from Swisscom.
---
SME mobile
Simply combine Internet, services, telephony and TV with a Mobile subscription and benefit from a 15% discount on all Mobile subscriptions in your company with the SME advantage.
SME benefit on all mobile subscriptions
The SME benefit gives you 15% discount on all inOne SME mobile subscriptions in your enterprise. Calculate your savings potential for multiple mobiles Here.
Add and manage additional mobile subscriptions after activating your inOne SME mobile subscription in the Customer Center.
The best Internet subscription for your SME
Five modules, one configuration – which one meets your needs? A customised solution in a few simple clicks – apply now for a free, no-obligation standard offer.
Any questions? We will be happy to help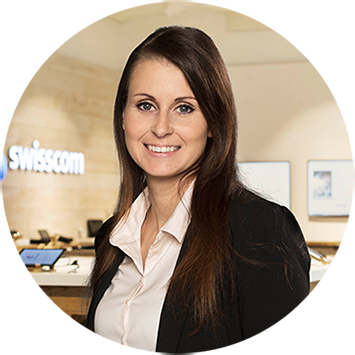 Arrange an appointment in a Shop
Set up a fixed appointment, no need to wait.
If you take out a new subscription, inOne SME mobile go costs CHF 50/month for the first six months (then CHF 80/month), including SME advantage CHF 38/month (then CHF 68/month), and inOne SME mobile premium costs CHF 170/month (then CHF 200/month), including SME advantage CHF 140/month (then CHF 170/month). In addition, you will receive a 200 welcome bonus as cashback. Minimum contract period 24 months. Activation charge 59.90.-. Cannot be combined with subscription promotions. The 200.- welcome bonus will be deducted automatically as cashback from the first monthly invoice after activation of the product. If the invoice amount is less than the welcome bonus, the difference will be carried over to the following month. inOne SME mobile go is valid for normal personal use. Calls from Switzerland to other countries, from the EU to third countries and calls/SMS to business, premium rate and short numbers are subject to a charge.
Enjoy a bulk discount on the subscription price with 3 and more inOne SME mobile subscriptions. In this case, the 15% SME benefit is calculated on the basis of the reduced subscription price. The SME advantage of 15% does not apply in combination with inOne SME office light.
Conditions for the Offer inOne SME office
All listed subscriptions apply for normal personal use. Swisscom reserves the right to curtail or restrict the service or take other appropriate steps if it establishes that usage considerably exceeds normal levels, orif there are justified indications that the connection is used for special applications (e.g. surveillance applications, machine-to-machine, direct dial and continuous connections). swisscom.ch/fup
All prices in CHF including VAT
Prices

for mobile subscriptions without buying a device
Excl. connection fee CHF 99.90