SME mobile
Simply combine Internet, services, telephony and TV with a Mobile subscription and benefit from a 15% discount on all Mobile subscriptions in your company with the SME advantage.
SME benefit on all mobile subscriptions
The SME benefit gives you 15% discount on all inOne SME mobile subscriptions in your enterprise. Calculate your savings potential for multiple mobiles Here.
Add and manage additional mobile subscriptions after activating your inOne SME mobile subscription in the Customer Center.
Any questions? We will be happy to help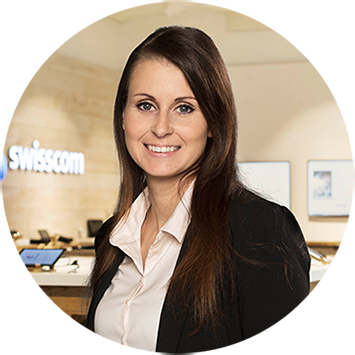 Arrange an appointment in a Shop
Set up a fixed appointment, no need to wait.
Save your configuration in the watchlist.

5 steps to your customized subscription for internet, telephony & service.
---
* subscriptions (all versions except for light) can take advantage of the inOne SME office special offer of 65.– per month for 12 months. ​Following the first whole month of their subscription, new subscribers will also receive a monthly credit of 50.– on their inOne SME office bill for a period of 2 months.​ Usage fees are invoiced as normal. Minimum contract term 24 months, activation fee 89.–. Unless cancelled at the end of the first 12 months, the inOne SME office subscription will continue at the standard conditions. Offer not available when simply switching subscription.​
** New inOne SME mobile go customers pay 40.–/mth for the first 12 months (80.–/mth thereafter), including the SME benefit of 28.–/mth (68.–/mth thereafter). New inOne SME mobile premium customers pay 160.–/mth for the first 12 months (200.–/mth thereafter), including the SME benefit of 130.–/mth (170.–/mth thereafter). ​
Minimum contract period 24 months. Activation charge 49.–. Cannot be combined with subscription promotions. inOne SME mobile is valid for normal personal use. Charges apply for calls from Switzerland to other countries, calls from the EU to third countries and calls/SMS/MMS to business, value-added service numbers and short numbers.
Enjoy a bulk discount on the subscription price with 3 and more inOne SME mobile subscriptions. In this case, the 15% SME benefit is calculated on the basis of the reduced subscription price. The SME advantage of 15% does not apply in combination with inOne SME office light.
Conditions for the Offer inOne SME office
All listed subscriptions apply for normal personal use. Swisscom reserves the right to curtail or restrict the service or take other appropriate steps if it establishes that usage considerably exceeds normal levels, orif there are justified indications that the connection is used for special applications (e.g. surveillance applications, machine-to-machine, direct dial and continuous connections). swisscom.ch/fup
All prices in CHF including VAT
Prices

for mobile subscriptions without buying a device
Excl. connection fee 89.–