Back up photos from your smartphone automatically, access your data from anywhere and enjoy your holiday photos as a slide show on your TV – with these six tips, you can get the very most out of myCloud, the Swiss cloud storage system.
The online storage system myCloud securely stores photos from your smartphone and documents from your computer in a Swiss cloud. Here are six tips to help you get the most out of this online storage system.
1. Automatic backup
You've just had a great day on holiday with your family. Of course, you captured it all on your smartphone camera. Photos are among our most precious possessions. If you've enabled the automatic backup function on myCloud, you can just sit back, relax and let the system do its thing. Every photo will automatically be backed up to a Swisscom data centre.
How it works: In the myCloud mobile app, navigate to Settings and look for the "Automatic backup" function. When this function is enabled, your new photos and videos will be backed up in your myCloud on an ongoing basis. This eliminates the need to manually upload your photos and protects you from data loss (if your smartphone gets lost or broken, for example).
2. Organise your photos online
With myCloud storage, you can access all your photos at any time, from anywhere. It's also easy to organise all your photos and videos online, edit individual photos and create albums.
How it works: For a better overview and layout, you can add your photos and videos to albums by selecting the photos you want and then selecting "Add to album". Or you can add your best photos and videos to your favourites. Select the photo you want and click on "Add to favourites" in the blue navigation bar. You can find your favourites in the "Albums" section in the "Favourites" category.
3. Share and comment on photos and videos
Cute snapshots of the kids, breathtaking landscapes, improbable adventures – we all want to share our favourite photos with family and friends and see what they think of them.
How it works: In myCloud, it's easy to share an album with friends and family, so you can all add comments to individual photos and videos. Just click on the symbol in the bottom-right corner and then you can comment on photos.
4. Watch your photos and videos on TV
Your holiday videos or birthday photos look even more impressive on a big TV screen. Get the family together for a cosy slide show evening at home on the sofa. With the latest generation TV Box, all you need to do is say "Hey Swisscom, go to my albums, start slide show" and you're away!
How it works: Upload your photos and videos from your computer to myCloud. Then you can start viewing them on Swisscom TV with the myCloud app. You can find your uploaded files in the bar right at the bottom of the Swisscom TV home screen.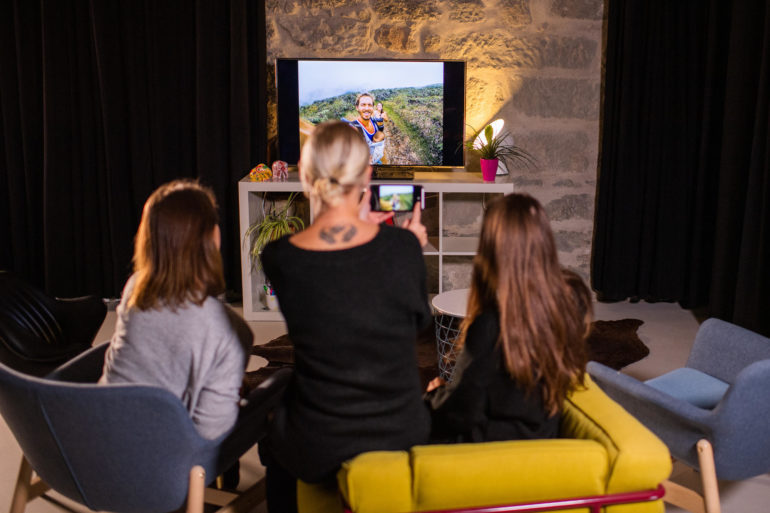 5. With Desktop Client, your data is up to date at all times – even if you're offline
You know how it goes: you're out and about when suddenly you desperately need to access a document that's on your computer at home. With myCloud Desktop, you can access your documents, photos and videos at any time, from any device. You can share your media and files with others or just access them from another device. And even if your PC crashes, your data will still be protected (but of course, we hope that doesn't happen! :-)).
How it works: Download the myCloud desktop app for Windows and macOS. This will connect your computer directly to the myCloud.ch online storage system. Once you've installed the myCloud Desktop software, a special myCloud folder is automatically created on your computer. You can find this folder quickly and easily in your file manager under the cloud icon.
Everything you save in this folder will be automatically copied to the myCloud.ch server and stored there. This means you can easily manage your files via Windows Explorer or Mac Finder and access the latest version of your data wherever you are.
6. Swiss data protection laws and Swiss contacts
Don't want to entrust your data to just anyone? We don't blame you. With myCloud, your data will be stored in Swisscom data centres in Switzerland and subject to Swiss data protection laws, which are more stringent than those in the USA, for example. And if you ever need help, there will always be a Swiss contact to speak to at myCloud. A reassuring prospect.