Looking for a new smartphone? To mark the start of the new Swisscom Hero League Season, we have compiled a checklist to help you find the perfect mobile phone for gaming.
Whether you're a casual gamer, single player or budding Esports professional in the Swisscom Hero League, smartphones now offer games for every type of gamer. To help you get the best mobile gaming experience, here are five things to look out for when buying a gaming smartphone.

Whether you opt for Android or iOS, as a gamer you can't go wrong with either operating system. The biggest and most popular games are available on both platforms and thanks to cross-platform play, Android and iOS users can enjoy competing against each other in most multiplayer games.
iPhone users currently have a bit more choice and flexibility than Android users thanks to some exclusive titles and the Apple Arcade game subscription.
And no matter which platform you use, with Swisscom Pay, you can use your mobile phone number to pay for your games (and apps) conveniently without a credit card.

There are countless factors to consider about screens when buying a smartphone. From a gaming point of view, there are three particularly relevant considerations:
1. Pixel density
The absolute resolution (Full HD, QHD, 4K, etc.) generally shouldn't come into play when choosing a smartphone. The most relevant thing to consider is the pixel density, varies with the size of the display for a given resolution.
It is typically indicated as the "ppi" (pixels per inch): the higher the value, the sharper the image.
A high ppi value is especially good for games with lots of (small) text and graphical details, and it can be better for your eyes.
Our recommendation: A value of at least 400 ppi ensures that the display will be sharp, with individual pixels barely visible even when you're right up close to the screen.
2. Brightness
If you want to game on the go, you should definitely think about the brightness of the smartphone screen when making your decision. Screen brightness is typically measured in "nits" or "cd/m2" (candela per square metre). The higher the maximum cd/m2 of a smartphone, the better the visibility in bright lighting, for example in direct sunlight.
Our recommendation: Because manufacturers often don't indicate the actual brightness of a smartphone screen, you'll need to research the value on independent test websites such as Display Mate. Top smartphone models now achieve maximum values of around 1,000 cd/m2. This practically guarantees screen visibility in direct sunlight.
3. Refresh rate
More and more Android smartphones now have a screen with a high refresh rate. The rate is measured in Hertz (Hz). It indicates how many frames a screen can transfer per second. The higher the value, the more fluid a movement feels on the display.
While 60 Hz was the standard for many years, there is now a wide range of 90 Hz, 120 Hz and even 144 Hz smartphones. Given the wider choice of smartphones available today, more and more games are being optimised, too, and offer the user a smooth and fluid gaming experience with up to 144 frames per second.
Our recommendation: A screen of at least 90 Hz ensures a more comfortable and fluid smartphone experience, and not just while gaming.

In contrast to modular PCs, smartphones and other mobile gadgets have what is known as a «system-on-a-chip» (SoC), which integrates central processing units (CPUs), graphics processing units (GPUs) and a number of other components (including for connectivity, artificial intelligence and camera optimisation).
Regardless of the manufacturer, most high-end chips offer comparable features, which are increasingly being optimised specifically for mobile gaming.
The latest chip generation, which is built into most top Android models (Snapdragon 865+), includes, for example, a CPU and GPU combination that has been specially optimised for processor-intensive and graphically complex games and supports refresh rates of up to 144 Hz.
Gamers will also appreciate the network features.
In the 5G range, the latest chips can theoretically enable speeds of up to 7.5 Gbit/s with low latency. Augmented reality applications and mobile cloud gaming in particular will benefit from these extremely high bandwidths in the future.
In addition, the current chips support the new Wi-Fi 6 standard in home networks, which promises lower latency, greater stability and speeds of up to 3.6 Gbit/s.
Our recommendation: Android users should choose a smartphone with the latest high-end chipset from Snapdragon (800 series, currently Snapdragon 865+). Samsung users should choose a smartphone with a 900-series Exynos chipset (currently Exynos 990). Apple users buying the latest iPhones will also be getting the most powerful Apple Bionic chip (currently A13 Bionic).
The best network
If you want to make the most of the top speeds offered by the latest chips, you'll need the right Internet package. Check out the following link to find out about the advantages of Swisscom's fibre optic speed and 5G network.

File sizes of several gigabytes are now the norm, especially with sophisticated and graphically complex mobile games (Fortnite, for example, currently takes up over 8 GB).
So, if you want to download more than just a handful of games, a smartphone with a lot of memory (or even with the option of expandable memory) is a good choice.
If you do a lot of multitasking besides gaming and switch between games and other apps, you should also make sure that your smartphone has enough RAM. If it doesn't have enough RAM, games (or other apps) may be closed in the background and game saves may be lost.
Our recommendation: If you want to have a lot of different games on your smartphone, you should invest in one with at least 256 GB memory (ideally with an expandable memory). Android users are well served with 8 GB memory. iPhone users can also manage with 4 GB memory thanks to the optimised iOS operating system.

A good battery is essential to avoid an abrupt end to longer gaming sessions when you're on the go. The capacity of smartphone batteries is typically measured in mAh (milliampere hours). As battery life depends on many factors (hardware and software), it is not very useful to make a general recommendation on battery capacity.
A much more meaningful indicator, for example, is information on the average Screen-on Time (SoT), which is collected in independent tests and through real-life user experience. The SoT value indicates how long a smartphone's screen can be active during a typical day before the battery dies.
Our recommendation: SoT values of over five hours usually equate to a pretty solid battery life, even for gaming. If you prefer to focus on the mAh value, make sure that the smartphone has at least a 4,000 mAh battery installed. Other features like fast charging can also be useful.
Conclusion: So, which is the perfect gaming smartphone?
If you want to play mobile games, you don't necessarily need a dedicated gaming smartphone. Many of the regular top smartphone models from the major manufacturers meet the most important criteria and ensure that you'll have an excellent mobile gaming experience.
We've summarised some of our current favourite models below:
The smartphone of a Swisscom Hero League champion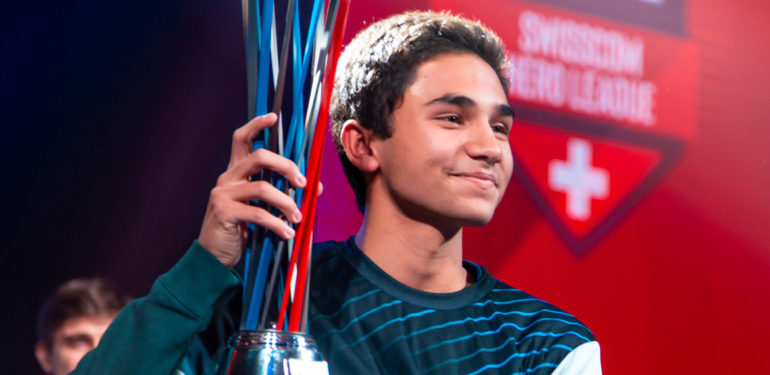 «Clash Royale» pro and three-time Swisscom Hero League winner Senpai Rekt reveals which device he prefers to play with and which aspects are really important for a Hero League champion.
I'm currently playing with a Samsung Galaxy Note 10+.
The large screen allows me to play more precisely than on smaller smartphones. The disadvantage: the movements take a bit longer and you can't play one-handed. But you get used to it quickly. Gimmicks like edge displays are unnecessary for Clash Royale and can lead to misclicks.
I don't like to play while my smartphone is charging – a good and fast charging battery is very important for me. My Note 10+ has a 4300 mAh battery and extremely fast charging.
Because Clash Royale's graphics aren't overly complex, it can also be played on smartphones with less power. But the phone should not be too old to avoid possible lags and framerate dips.
But perhaps the most important aspect for Clash Royale is a fast and stable connection. The game can be decided within a hundredth of a second – a fast reaction time and low latency can oftentimes decide the outcome of a match.