October is peak season for horror films. But if you fancy getting involved in scary stories rather than just watching them, horror games are your best bet. Our list of five games has something for everyone, regardless of your fear threshold!
Horror for the faint-hearted: Luigi's Mansion 3
Scare factor

Love Halloween but hate fear-induced sweats and heart palpitations? For all you sensitive souls, we can recommend Luigi's Mansion 3 with a clear conscience.
Players take Luigi through a hotel haunted by ghosts, on a mission to rescue Mario and Princess Peach from the clutches of King Boo, the leader of the ghosts.
The game features some classic horror elements, but in typical Nintendo fashion, it's all done in a funny, family-friendly way.
Available on: Nintendo Switch (Release date: 31 October 2019)
Age rating: 7 years and over
Horror on the go: the Rusty Lake series
Scare factor

NATEL® Pay
Did you know? You don't need PayPal or a credit card to buy the spookiest Halloween games. On PlayStation, Xbox, PC, Android and iOS, you can pay for your games easily and securely with your mobile number.
Here's a top tip: if you want a horror game to play on the go, the Rusty Lake series is for you. The series now comprises three 'point and click' style games, in which the player can puzzle their way through the surreal world of Rusty Lake. We recommend keeping an open mind as you work through the game's sinister stories and clever puzzles – and enjoy the surprises along the way.
The game doesn't have any majorly scary moments to satisfy real horror fans, but its creepy, macabre atmosphere is a winner. Don't forget to wear headphones!
Available on: iOS, Android, PC
Age rating: 12 years and over
Multiplayer horror: Dead by Daylight
Scare factor

Dead by Daylight is an asymmetric multiplayer game in which one player takes on the role of the bloodthirsty murderer, while four others play the innocent victims. This set-up, which is unusual for a multiplayer game, makes for plenty of classic teen horror movie moments ('watch out, he's behind you!') and is sure to get hearts racing.
The newest update also includes a Stranger Things mode.
Available on: PS4, Xbox One, Nintendo Switch, PC
Age rating: 18 years and over
Horror for movie fans: Blair Witch
Scare factor

Who remembers the 90s cult classic The Blair Witch Project? This low-budget flick revolutionised horror films and managed to strike fear into our hearts with its simple effects and 'found footage' aesthetic.
The game continues the story of the Burkittsville witches, taking the player back into the depths of the infamous forest. The game brilliantly replicates the film's unsettling horror atmosphere – which is why we'd only recommend it to players with nerves of steel.
Available on: Xbox One, PC
Age rating: 16 years and over
A new dimension of horror: Resident Evil 7
Scare factor

Do you find 'normal' horror games too superficial? What if you could play them in virtual reality?
We recommend playing Resident Evil 7 in VR mode. Unlike other games with a VR option, you can play Resident Evil's entire single-player campaign in virtual reality – without any restrictions or changes to the gameplay.
The player controls character Ethan Winters as he embarks on a search for his missing wife and ends up in a run-down mansion, where he has to fight for his life. This game is for bona fide horror fans only – especially in VR mode!
Available in VR on: PS4
Age rating: 18 years and over
For something different, try The Legend of Zelda: Link's Awakening
Cuteness factor

Not interested in Halloween? Fancy something more wholesome instead? The newly released The Legend of Zelda: Link's Awakening makes for a great alternative to Halloween games. The ultra-cute graphics and heart-warming story will be sure to distract you from any spooky thoughts or Halloween frights.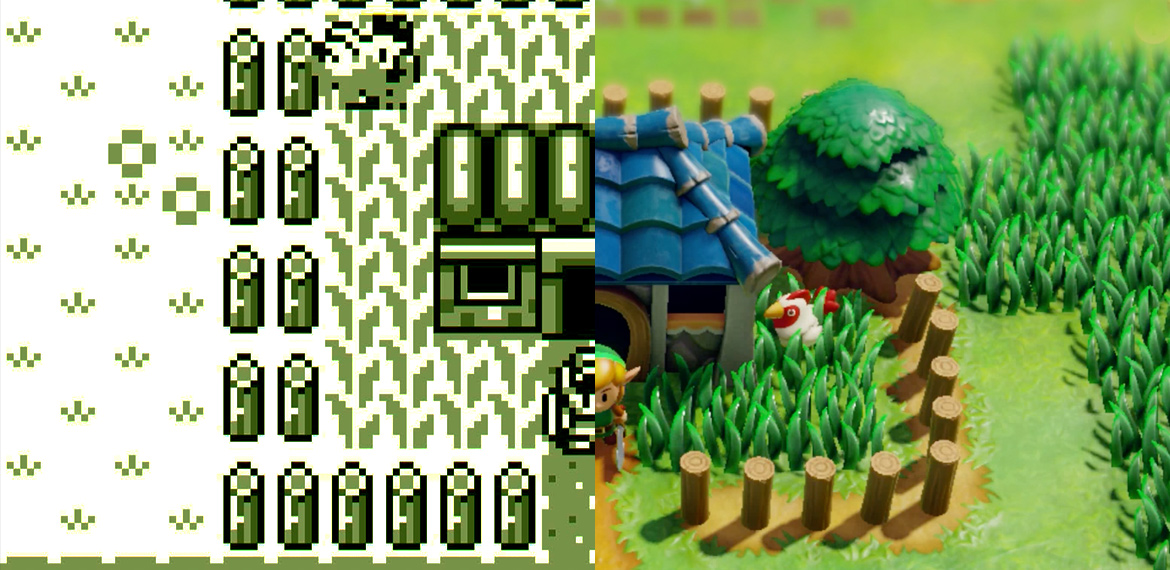 A game we call 'nostalgia': old games, new look
Remakes aren't just a recipe for success in the film industry; new versions of old games are really popular right now, as well. But what…
Available on: Nintendo Switch
Age rating: 7 years and over
Swisscom Gaming u0026amp; eSports
The Swisscom Hero League is Swisscom's new Swiss eSports league for casual and professional players, launched in collaboration with ESL. Swisscom TV now features several game channels, as well as a whole theme world dedicated to games. Discover the Swisscom world of eSports and gaming now.