The idea of working outdoors is usually more appealing than the reality. Sun, noise and no electricity can quickly ruin the experience. Here, we've got some tips to make your outdoor office a little more relaxing.
First of all, it is important to find the right place to work. The spot should be in the shade as the screen brightness on your laptop will be good there and everything will be easy to read. Working in the shade also prevents you from getting sunburned and stops the laptop overheating. But not every balcony provides the option to work in the shade. If you have to work in the sun, we recommend wearing a hat or sunglasses, for instance.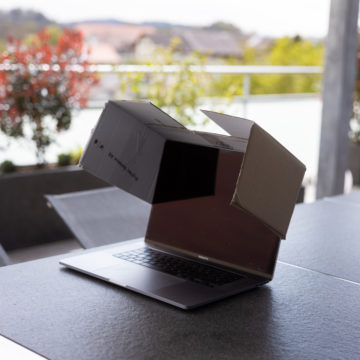 Even with shade, it can still be hard to read the screen. Very strong or direct sunlight can make a laptop screen unusable. But with a little crafting, you can build and affix your own DIY laptop sun shade (see picture). To do this, simply cut open the sides of an old cardboard box and attach it to the back of the laptop with adhesive tape. This makes the screen a whole lot easier to read, plus handicrafts are a fun break activity :-).
Noise
Y600 Wireless Headphones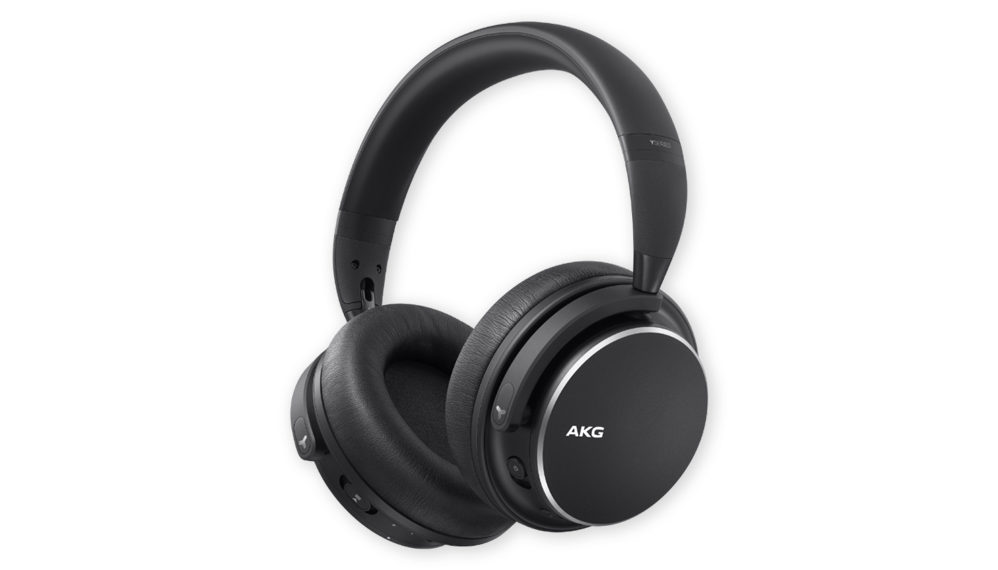 With the Y600 Wireless Headphones, you are well equipped for working from home. These on-ear headphones feature 25 hours of battery life and active noise cancelling.
Chirping birds, passing cars and chatty neighbours – background noise during online meetings is distracting and is especially noticeable when working outdoors. To avoid noise interference, a decent headset with a good microphone is essential. Most headphones have a noise-cancelling feature, which blocks out the noise around you. In addition, microphones on office headsets are angled so that they primarily pick up the voice of the person speaking and ignore background noises.
If ambient noise can still be heard despite the headset, you can click the mute button during a meeting. As soon as you unmute yourself, your voice will mask the background noise. This is not the best solution, but it does make working this way a little easier.
Depending on which communication software you're using, you can also adjust microphone sensitivity. This means that if the background noise is quieter than your voice, it will not be picked up by the microphone. You can find this setting in the device settings.
No power supply
Most laptop batteries will not store enough power to work outside for eight hours. And most patios and balconies don't have power outlets to charge your laptop with either. This problem can be easily solved with an extension lead. For those who like to move around and want to charge their laptop in the middle of the garden, an extension lead will not be enough. But there are now plenty of high-performance power banks that you can use to easily charge your laptop, smartphone and headphones wherever you are. With the Xtorm Powerbank 20,000 mAh, you can charge three devices simultaneously. The portable charger has two USB-A and two USB-C ports, and one of the USB-C ports has a 60 W input/output with Power Delivery, allowing you to charge a laptop.
WLAN-Box 2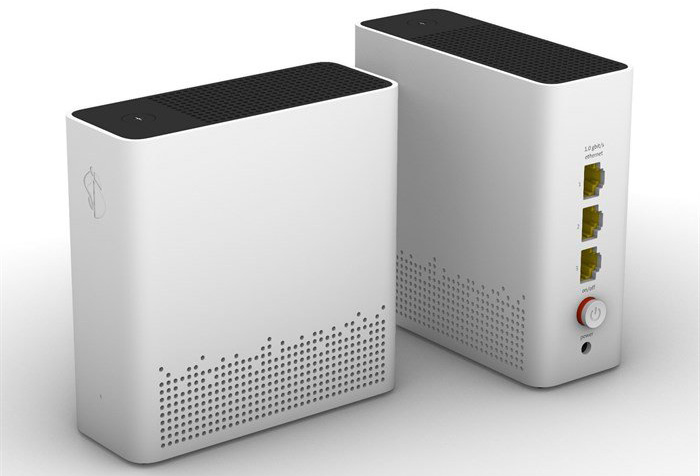 The WLAN-Box 2 lets you expand your home network and gives you a better connection in every room.
Extend wifi signal
Nothing is more annoying than bad internet when you're working from home! Especially if you're working outdoors, there is a risk that you won't get a strong enough wifi signal outside. Swisscom's WLAN-Box 2 can increase the range of the existing wifi. The box can be used as a repeater or wifi access point and automatically connects its devices to the best wifi network. At the press of a button, the device connects to the router in its network.
Clean screens and surfaces
One disadvantage of working al fresco is that the screen and keyboard get dirty faster than indoors. Especially in the spring with pollen flying around, many devices quickly accumulate a layer of dirt on the surface. This can make the screen harder to read, and much worse, the dust and dirt can shorten the life of the laptop.
If this dust gets into the laptop's air vents, and consequently into the housing, it can damage hardware components. The layer of dirt is almost impossible to avoid, but you can prevent damage by regularly cleaning the laptop's surfaces. It is important to choose the right cleaning cloths because not all lens cloths or disinfecting wipes are suitable for cleaning laptops. We recommend the Screen Shine Wipes by WHOOSH!, highly effective wipes specially designed to clean screens on your laptop and other devices.