Icy temperatures on the outside, sweat on the inside: we accompanied a cross-country skier on a trail at Gurnigel in the canton of Bern. Why smartwatches are a hit for cross-country skiing – unlike phones.
Patrizia di Costanzo is a passionate athlete: she runs, swims, trains and skies cross-country in winter. Her smartwatch has been accompanying her since the beginning of 2015. Patrizia uses the smartwatch to record her various training sessions. She values its waterproofing, integrated GPS and altimeter.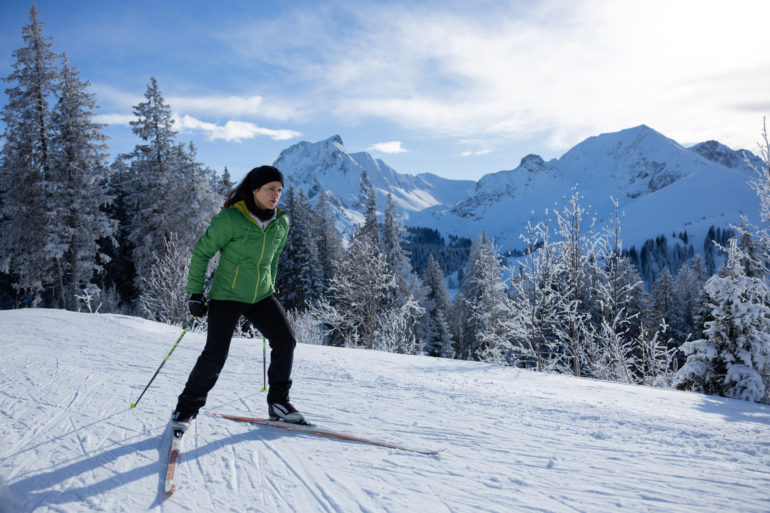 Patrizia can take the watch swimming, or record cross-country ski runs without her iPhone. The optical heart rate monitor records the pulse at her wrist, gives updates on her workload and recommends rest periods. She can even switch sports during a training session (from running to fitness, for example).
We accompanied Patrizia on a trail at Gurnigel, near Berne, on a sunny but icy day in January. She was using a pre-installed app to record the training session. Six reasons why she trains with a smartwatch – including in winter.
She doesn't have to enter a pin code and click on an app
Patrizia can launch the sports program on her smartwatch with just three taps – even in the snow or in water. Without having to type the pin code, scan her fingerprint or use face ID.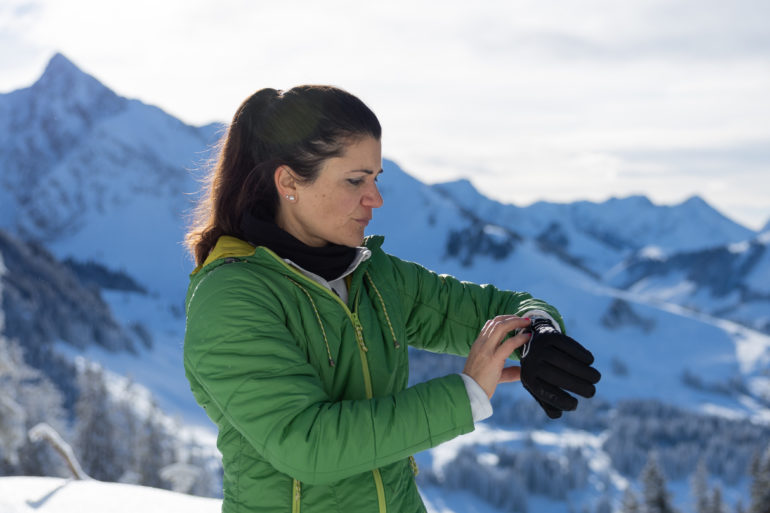 On her wrist, the watch is protected from the cold
Body heat is the best way to protect electronic devices and their sensitive batteries from the cold. The smartwatch battery stays well-insulated on a warm wrist, usually tucked away under the sleeve of a garment. It also lasts longer than that of a mobile phone.
Tip: There are clothes with a special cutout for your smartwatch.
She sees everything important at a glance
The large, high-contrast smartwatch display shows Patrizia all the data she needs during a training session: distance travelled, pulse rate, calorie consumption and current time. It can display up to five data fields simultaneously.
Entertainment on the go
The smartwatch is small and plays a minimal role in the training, but it's nonetheless a full-featured music player. Patrizia can stream music, podcasts or audio books while on the go – depending on her mood or goal. All she needs is a pair of Bluetooth headphones. What's more, she doesn't have to take her smartphone to training with her because her subscription has a Multi Device option. This means that the smartwatch is connected to the mobile network wherever she goes.
Multi Device: all your devices connected with a single mobile subscription
The Multi Device option lets you use your mobile subscription on up to 10 additional devices. You can make calls using your main device's telephone number and can connect all your devices to the internet at the same time. That means you can go wherever you want while exercising.
The smartwatch measures her vital data
Thanks to its inbuilt sensors, the smartwatch measures her heart rate precisely, so she knows what her workload is at any given time.
Getting help in an emergency
Patrizia often trains alone – like here on Gurnigel. If something were to happen to her, she could make a phone call using the smartwatch. And in an emergency, her loved ones can reach her by phone.
The evaluation
However, the smartphone still has its uses: there, the route she takes during training is recorded and subsequently displayed on an interactive map. This map also visualises her training workload.
Buy smartwatches online
Listening to music, making calls, sending messages or recording sporting performance: however you use your smartwatch, there's a model out there that's perfect for you. Find the smartwatch that suits you online.