Which is your favorite PlayStation franchise?
A total of eight game series compete against each other in various categories. One game per match will make it to the next round. Which franchise wins in the end is up to you – you can vote on Twitter @Swisscom_Gaming.
It's worth taking part, because there are great prizes in each round!
Current status of the vote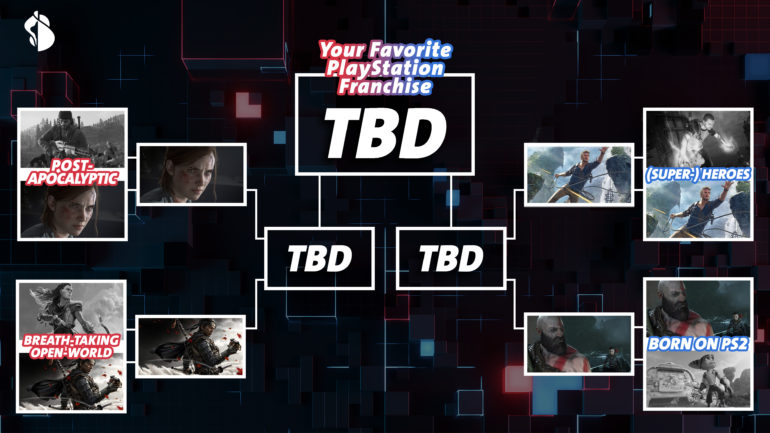 Prices
Round 1
1 x Dual Sense Wireless Controller
1 x PULSE 3D Wireless Headset
2 x 100 CHF PlayStation Store credit
Round 2
1 x 12 months PlayStation Plus membership
1 x 12 months PlayStation Now membership
Final
1 x PlayStation 5
Participation conditions

Anyone who submits their vote by commenting on a voting post on Twitter between 14 March 2021 and 05 April 2021, 18:00 hrs, can take part in the competition.
All persons from the age of 14 who are resident in Switzerland are eligible to take part. The competition is not open to employees of Swisscom and its partner companies.
The winners will be notified by direct message on the respective social media platform by 10 April 2021 and subsequently published on @Swisscom_Gaming.
No correspondence will be entered into. No cash payments will be made and the decision will be final.
Swisscom also reserves the right to delete videos that violate the following principles at any time. The following, in particular, are not tolerated:
Objectionable, obscene, pornographic, threatening, violent, discriminating, racist, insulting, pejorative, misleading, or illegal content, as well as content that violates the rights of third parties (including their copyrights and personal rights);
Content that contains direct or indirect advertising for third-party products;
Content to which the participant does not have the necessary rights. This is particularly the case with trademarks (e.g. the Swisscom logo).
Employees of Sony Interactive Entertainment and affiliated companies (as well as their officers, directors and employees) are not eligible to participate.