Fabian Bösch, freestyle skiing world champion in slopestyle, loves skiing and freeriding. In an interview, he explains how he juggles risk-taking with the need to remain safe and how new technology could help him.
In 2015, Fabian Bösch became the youngest ever Swiss world champion in an Olympic discipline. At the age of 16, he was crowned world champion freestyle skier in slopestyle at Kreischberg, Austria. Just a year later, the skier from Engelberg, who is now 21 years old, jumped his way to top spot on the podium at the X Games in Aspen, US, in the big air event. But Fabian Bösch is also an artist, freerider and daredevil. In this interview, he explains his passion, freedom and evaluation of risk.
Seven years ago, you were an ambitious young skier and became junior slalom world champion at the age of 14. Why did you switch from alpine skiing to freestyle?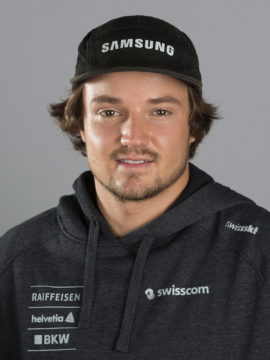 Fabian Bösch: I grew up in Engelberg and became a member of the ski club at a very early age. For me, skiing is just the best thing ever. And that means any type of skiing. However, the alpine disciplines lack the freedom I want. I find it cool to build ramps, try out new tricks and train on different kinds of equipment, like the trampoline, for example.
What is it about freestyle skiing that fascinates you?
I always want to learn new tricks. If I am the first to do something, that's a real thrill, and it also makes me proud. There are no rules and it doesn't feel like training when you are trying out the basic moves for new tricks on the trampoline. It's just great fun to show these tricks at competitions.
It takes lots of courage, particularly at the X Games, where you have to conquer a 60 metre high ramp and you are only guaranteed a safe landing after 30 metres. How willing are you to take risks?
By training and building things up slowly over the years, I can minimise the risk. At a competition, I only do jumps that I feel safe with.
The whole world also knows you because of your escalator video, which was made during the Winter Olympics in South Korea. Did you not risk possible injury by doing that just a week before the highlight of the season?
No, not at all. I have a feel for these things and I'm good at assessing what is possible and what isn't. It's also down to the experience of balancing that I've gained from my training. I call it risk management. And if the risk is too big, then I just don't do it.
In addition to the competition slopes, you also go out and about on the pistes, when freeriding, for example. This exposes you to danger. What measures do you take to make a better assessment of the risk of avalanches and snow slabs?
Even though I am mostly out and about in Engelberg and I know the slopes and the skiing area here really well, I always consult the avalanche bulletin. If the avalanche risk for the alpine slopes is graded as 'considerable', then I don't go freeriding. And if the avalanche risk is low, then I equip myself as best as I can – with an avalanche transceiver, airbag and probe, for example.
Your decision to go freeriding therefore depends on the avalanche bulletin. If the technology existed that could predict the avalanche risk more precisely, what difference would that make to you?
As I travel a lot, I just want to spend the time between training and competitions going freeriding with my friends. We have the most fun when we can turn on slopes that have a deep covering of snow. Those are brilliant conditions, but unfortunately the avalanche risk also increases with fresh snow. However, knowing the risk level for a specific slope in real time increases the chances of the perfect ride.
Using the 5G network to make a better assessment of the avalanche risk
The local conditions and individual slopes are not currently assessed in the avalanche bulletin. That's why winter sports enthusiasts and safety officials have to rely on local assessments. This data is often collected manually by mountain railway employees who assess the situation each morning.
With new technical approaches, information about snow depth, fresh snow on avalanche slopes, snow slab movements and other critical areas could be accessed via mobile phone around the clock. To do this, sensors are installed on avalanche slopes that can measure snow depth and movement and transmit the information via the 5G network, practically in real time. The Internet of Things – the sensor network – needs a 5G connection, in order to transfer the data volumes quickly and with no delay in transmission.
The World Championships are currently being held in Utah, US. How do you prepare immediately before events?
Just before the competition, I practise my tricks and the sequences of the tricks, so that I am confident that everything will go well. I sometimes do some online gaming, as a distraction.
What targets have you set yourself for the World Championships?
Big air is a new addition to the World Championships and I am really looking forward to this competition. And in the slopestyle competition, I'm going to do the new trick that I invented last year. If everything goes well, I should be able to get on the podium in both competitions.
5G: the next-generation mobile network
Swisscom plans to offer 5G throughout Switzerland by the end of the year in cities, the countryside and mountain regions. You can see which areas currently have 5G coverage at www.swisscom.ch/5G.
The increased speed, huge bandwidth, short response time, energy efficiency and capacity make 5G a key technology in many areas of application. It will make things possible that we can't even imagine yet. Look forward to the future with us.
The photos were provided by Fabian Bösch.