The controversy surrounding how to address climate change is white-hot. The Internet of Things (IoT) could help bring some objectivity to the discussion. Swiss IoT projects that use environmental data for the benefit of humans and animals are already under way.
Last summer's record heat was an eye-opener for many people. Young people are not the only ones raising their voices about climate change. But there are widely differing opinions on the 'how' – radical bans, or curbing consumption voluntarily? There is often a lack of information, and contexts are complex and not always so obvious. What we need is a better understanding of real facts. And that is only possible when data is collected and used with precision. The technology for this is mature and already in use: the Internet of Things (IoT).
IoT may be one key technology that will help to significantly reduce CO2 emissions.
During the 2016 Climate Change Conference in Marrakech, IoT was already being discussed as a key technology that could help achieve the global transition to renewable energy. Two studies conducted by the Zurich University of Applied Sciences (ZHAW) and the US-based think tank Carbon War Room came to the conclusion that IoT has the potential to significantly reduce CO2 emissions. And back in 2015, tech giant Ericsson published a study demonstrating that annual CO2 emissions could be reduced by 15 percent with the help of information and communication technologies.
Knowledge in real time
How can modern technology, of all things, help us to better cope with climate change? The biggest sources of CO2 pollution are clear, but a detailed understanding of the interrelationships is often lacking. Where, for example, are emissions coming from at a given moment, how intense are they and what does this mean for the environment? A pioneering project analysing local emissions in Switzerland, which is being conducted by the Swiss Federal Laboratories for Materials Science and Technology (Empa), has been yielding interesting results for over three years. It uses 222 networked sensors to deliver real-time information on the intensity of CO2 emissions, for example, in the city of Zurich, the impact of CO2 uptake by plants in the area, and how this uptake declines during a heat-wave summer. It is precisely these kinds of facts about interrelationships that can bring some objectivity to discussions about CO2 and sustainable practices. Most importantly, however, they provide input and knowledge for innovative approaches that have remained out of reach in the past.
Complete cold chain for foodstuffs
One of these approaches is used in the food industry, where perishable foods have to be kept refrigerated at a temperature required by law during both transport and storage, and must not exceed a certain maximum threshold. Instead of having personnel manually measure the storage and core temperature of foods at regular intervals, IoT sensors can measure the ambient temperature as well as calculate the core temperature of the product. Temperatures can fluctuate depending how often a freezer door is opened, for instance. With automated temperature management, refrigerators might be able to help keep foods from spoiling too quickly while at the same time preventing energy waste in refrigeration. One positive side effect for consumer health is that an optimised cooling chain could reduce or even eliminate the need for added preservatives in industrially produced foods.
Saving water through optimised irrigation
Real-time information on the current situation and the right course of action: that's the goal in deploying IoT technology. Optimised irrigation of fields and gardens, for example, reduces water and energy consumption. 'Tests have shown that sensor-based irrigation control systems can cut water consumption in half while maintaining the same yield,' as Luzius Matile from the Institute of Natural Resource Sciences at ZHAW points out.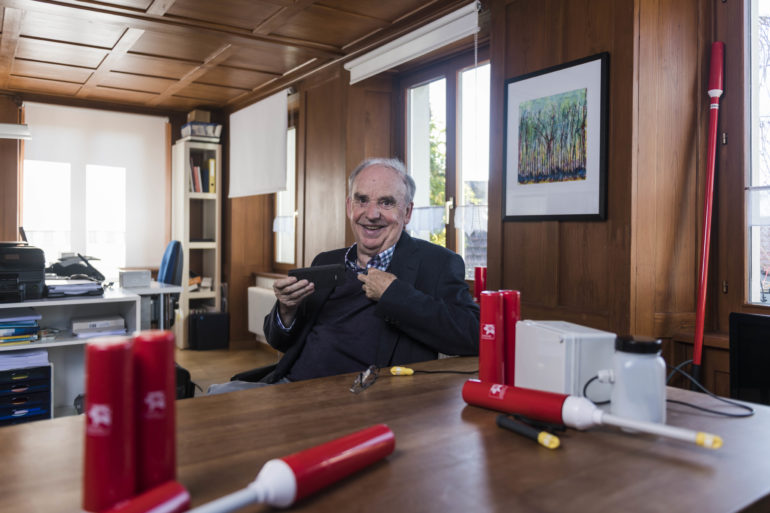 Walter Schmidt, CEO of PlantCare, a company that has now switched entirely to IoT after more than 15 years of experience with conventional sensor technology, had the same experience: 'No farmer can monitor their soil with the same precision and across large areas as a sensor network in fields and greenhouses. Most farmers overwater to be on the safe side,' he says. This leads to lower yields and increases the risk of parasites and fungus as well as soil erosion. Schmidt is a pioneer and realised early on that IoT technology is not only good for the environment; it can also be used to develop completely new business models. PlantCare AG offers IoT solutions for optimising the irrigation of soil in agriculture as well as watering of gardens, parks, football fields and golf courses. The smart IoT sensors not only ensure that farmers or the managers of green spaces always know the state of the soil without actually having to be on site; they also help save massive amounts of water – which is important during periods like last summer's record heatwave. Watering is only carried out as needed, but crop failures caused by aridity can be avoided.
Security remains an issue
The question remains: doesn't this simply create new energy guzzlers? And will this information come at the cost of data security once again? But the ZHAW study shows that the energy used by sensors and digital transmission technologies is negligible. Security, on the other hand, depends greatly on the devices used and, not least, on the network itself. Beyond the realm of the public internet there are various network technologies, such as the Low Power Network from Swisscom, that offer a very high security standard coupled with extremely low energy consumption.
A knowledge boost for research
Even research projects have recognised the value of IoT. The Asian tiger mosquito, which made its way to Switzerland some time ago, has found the habitat more congenial than it was just a few years ago as a result of global warming. The mosquitoes can survive the winter in wetlands as long as temperatures do not drop below freezing. To find out whether tiger mosquito populations have a good chance of survival in underground shafts or mud holes, the University of Applied Sciences and Arts of Southern Switzerland (SUPSI) is operating a monitoring system that uses IoT sensors in cooperation with Swisscom. Water shortages and excessive heat are not the only problems facing humans and animals. Allergy sufferers, for example, are experiencing far more intense pollen counts, as Peter Schmid-Grendelmeier, head of Allergology at the Department of Dermatology at University Hospital Zurich, explains: 'When trees are under stress, this can lead to a modified protein structure in the pollen. This can then cause more intense symptoms in people with pollen allergies.'
With the right information, allergy sufferers can make changes to their daily routines and dose their medication appropriately.
The problem must not be underestimated: Switzerland has around 1.5 million people who suffer from pollen allergies – around 15 to 20 percent of the population. This costs the Swiss healthcare system an estimated CHF 50 to 250 million annually. The indirect costs resulting from fatigue, illness and missed work add another CHF 1 to 3.5 billion to this annual figure. The information on pollen counts is currently based on observations and empirical values that are incorporated into the models. Nevertheless, the predictions are still quite rudimentary. Presently pollen is still identified and counted manually under the microscope, so it can take up to a week before this data is available. And yet rapid, reliable information is precisely what is required here. This would give allergy sufferers the information they need to adjust their daily routines and medication dosage accordingly.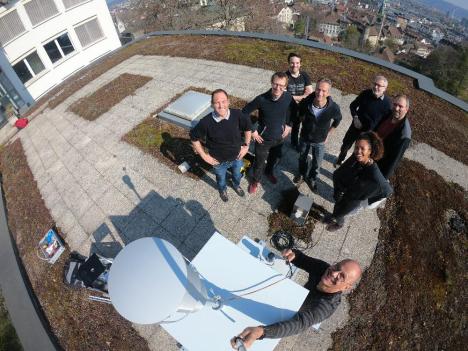 Based in Horw, Switzerland, a start-up called Swisens is applying precisely this approach with its new testing instrument. Not only does it measure pollen counts automatically; it can also identify the type of pollen – birch, hazel, grass, etc. The sensors are connected wirelessly and provide current information at one-minute intervals if required. The project currently under way at Ally Science is based on a similar idea but takes a very different approach. Allergy sufferers document their symptoms using the Ally Science app developed at Bern University of Applied Sciences. The app combines the information with GPS data to determine the intensity in certain regions relatively quickly and to inform allergy sufferers. Having as many volunteers as possible taking part means constantly improving data.
Better quality of life
A collaboration between Ally Science and Swisens is now aiming to combine both methods and, in the medium term, greatly improve the speed and accuracy of pollen information given to allergy sufferers. As part of this citizen science project, two measuring stations in Biel and Lucerne measure pollen counts. This data will still be compared with the symptoms reported anonymously by allergy sufferers using the app. In this way, researchers can study how best to establish a network of IoT measuring instruments combined with the collection of symptom data for the purposes of making precise, comprehensive forecasts and, in turn, to consistently increase the quality of life for allergy sufferers. Tackling climate change requires concrete facts – and not just about pollen counts. It might not save the climate, but the Internet of Things can provide transparency. The technology is available and will continue to evolve through innovative projects. Switzerland is in the early stages in this regard, but it is seizing the opportunity to make many people's lives a bit easier in the future.
Real-time data: secure and consistent
The Internet of Things is already being used successfully in a variety of scenarios to conserve resources and ensure security:
Indoor climate monitoring in storage spaces for precious works of art, for example, with the

IoT picture frame

from the #myprivatepicasso campaign.

Indoor climate monitoring in seed banks,

CO2 measurements

in metropolitan areas to optimise traffic flow.

Temperature monitoring for the transport of foodstuffs or medical products

Air quality monitoring to preserve biodiversity

Soil moisture analysis

for optimising water use in agriculture or public green spaces

Early warning systems for flooding, landslides or avalanche hazards in mountain areas

Testing drinking water quality to prevent bacteria growth

Networked beehives

for constant measurement of key vital data

Measuring the tiger mosquito population in Swiss cities
IoT Magazine: When things provide data
What other areas in everyday work do IoT applications support? And what exactly is the Internet of Things in detail? You can find out all this and more with the help of various explanations and stories about the Internet of Things in our IoT magazine.