---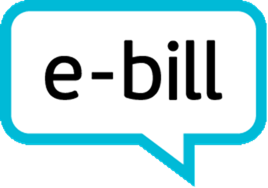 ---
E-bill is short for "electronic bill." You receive e-bills right where you pay them - in your e-banking system.
E-bills are easy. You don't have to type in your long reference number: you can just check and pay your bills with a few clicks of the mouse. E-bills save you time and mean that you won't receive any more paper invoices.
---
How e-billing works in practice:

!
You must install Adobe Flash Player to view this content.
---
Access e-billing in just a few steps:
Sign in to your e-banking service or e-finance with Postfinance
Make a one-off selection of the billing company, Swisscom Swisscom (Schweiz) AG. Enter the billing address and account (on your Swisscom bill) in the registration field..
You can now receive, save, and pay your Swisscom bills in e-banking with just a few clicks. You can see your current costs at any time in the Customer Centre or on the mySwisscom App.
Take advantage of many benefits:
It's easy - e-billing removes the tedious and error-prone typing in of reference numbers, amounts, and account information.
It's quick - pay your e-bills with just a few clicks.
It's paperless - the e-bill goes straight into your e-banking. You'll no longer receive paper bills.
It's controllable - you can check your e-bill and simply not pay if you don't agree with it.
It's safe - e-billing is as safe as your e-banking system.
You can find further information about e-billing as well as some great competitions at:
---