In recent months, we have all become acquainted with the benefits of online meetings – and their perils. This etiquette guide will help you to plan and hold virtual meetings as efficiently and with as few interruptions as possible. Tips from practical experience.
"We can't hear you, you're still on mute." How often have you heard this sentence in recent months? Probably too often. Online meetings have largely replaced physical meetings. And they require new behaviours and etiquette. These practical tips from countless virtual meetings will help you to hold efficient and purposeful online meetings.
Of course, the tried and tested rules for traditional on-site meetings, such as punctuality, good preparation and clear objectives, also apply to virtual meetings.
Organising online meetings
Virtual meetings are more difficult than physical meetings. Some body language is no longer available, and concentrating on the screen can be tiring. It is therefore all the more important that the meetings are well structured and that the schedule is adhered to. These tips can help:
Meetings of more than one hour should be the exception. Plan a break after 60 to 90 minutes at the latest.
In meetings with many participants, you can collect questions in the meeting chat and then answer them all at the same time.
Summarise the conclusions and tasks again at the end. This ensures that all participants are aware of the important points.
Starting the virtual meeting
Online meetings with strangers pose a particular challenge – it's much more difficult to feel the "chemistry". This means that how you start is all the more important with an unfamiliar group. Here's how to make it work online:
If people don't know each other or barely know each other, start with a round of greetings.
In groups where people know each other, such as team meetings, you can schedule five to ten minutes for informal interactions. This is important in giving a sense of belonging, which is often lacking when everyone is working from home.
You could even start with an activity to get people engaged, such as a short online game with the team. This helps to create a relaxed mood and promotes cooperation and getting to know one another. There are hundreds of ideas for games on the internet, from virtual Battleships to PowerPoint Karaoke.
To mute or not to mute?
Physical meetings will involve human background noise. In online meetings, sounds are irritating when the source is not visible. On the other hand, it is equally unpleasant to speak to a silent screen – especially when everyone's cameras are switched off. This approach has proved its worth in practice:
It's advisable for listeners to put themselves on mute in meetings of four participants or more.
Microsoft Teams features a button that allows you to raise your hand virtually. It's an elegant way to get involved without interfering.
Join big meetings on mute. Teams will automatically mute you if there are already a lot of participants in a meeting.
Put your smartphone on silent to avoid background noise. For the same reason, you should avoid typing on your laptop keyboard unless you're on mute.
Meetings with camera or without?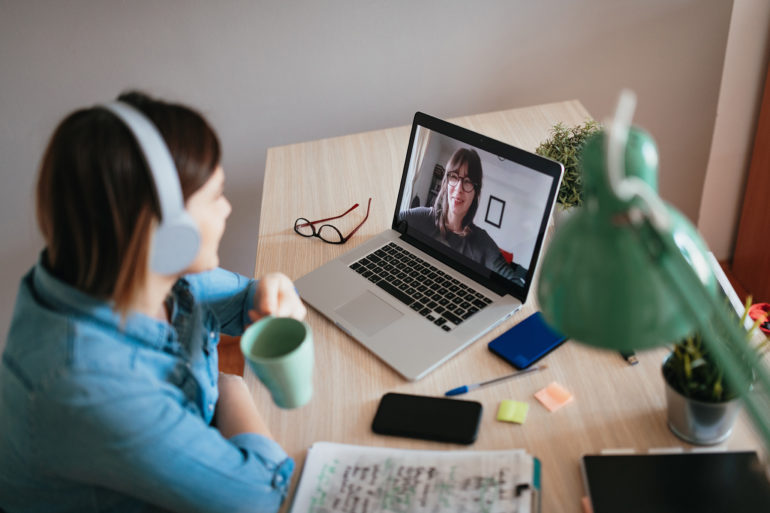 Experience has shown that many online meetings take place with cameras switched off – partly because participants don't feel "filmogenic" enough at the moment. This is understandable, but it's a shame, because it means that signals from body language are completely absent. These recommendations have proved their worth in practice:
Hold two-person meetings with your cameras switched on.
Hold informal virtual meetings such as coffee breaks or evening beers with webcams.
If someone is presenting (screen sharing), all other participants should turn off their cameras and sound.
If you're working with a laptop and an external screen, have the meeting window open on the laptop and look directly into the camera. A three-quarter profile may look pretty in a photograph, but it can be annoying in an online meeting.
It should go without saying that if you have a camera on, you should be dressed appropriately. However, it's normal to dress somewhat more casually when working from home.
Improving image and sound quality
Poor sound quality, echoes and fluctuating volume: the technical problems encountered in online meetings are reminiscent of the everyday work of a sound technician. With the added difficulty that usually, only the other participants notice the problems. Here's how to prevent them:
Use a headset or headphones with a microphone. Laptop microphones are often very sensitive to changes in distance and the sound becomes (too) quiet. Laptop speakers and microphones are often also responsible for echoes.
If the environment is noisy, noise cancelling headphones will create a quieter atmosphere.
Test your new equipment before using it for the first time. Take the time to connect the headphones to the laptop and test the sound output and the microphone. In Windows 10, this can be done via the "Sound" option in the settings. Microsoft Teams offers the option of making an automated test call in the settings under "Devices". You can also ask someone for a test meeting to test a new device with your online meeting software.
Make sure that lighting is fairly balanced when attending a video conference. Laptop webcams are usually unable to compensate for backlighting or dark rooms. So present yourself in the best light – literally!
No focus? Often distracted?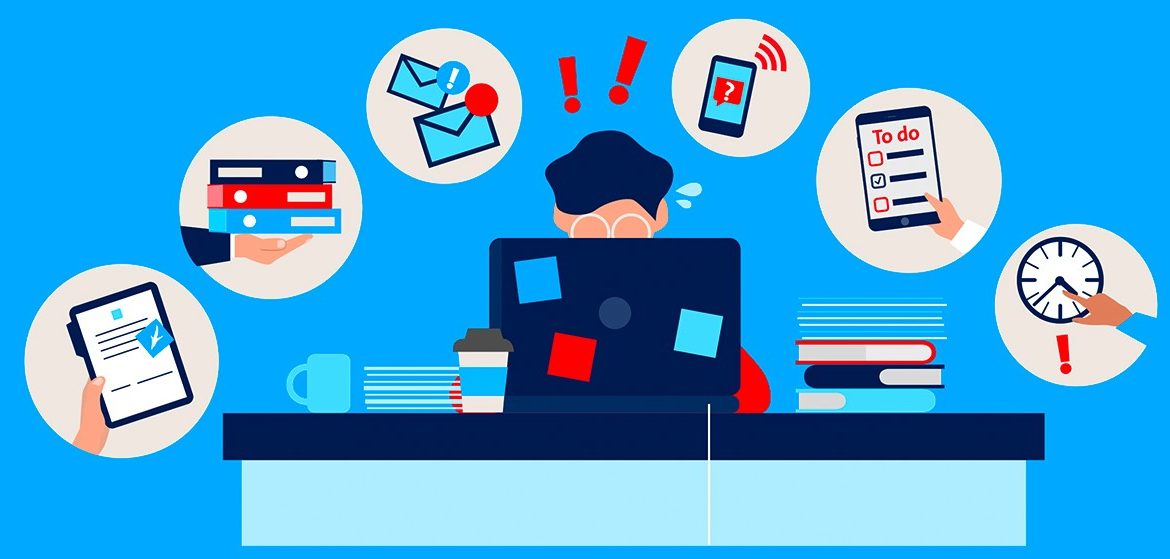 Three approaches have a fundamental influence on focus and efficiency: good self-management, clear rules in the team and the ability to break bad habits. Start now. Our free 15-minute e-learning will support you.