Cloud-based data repositories and online meetings are proof that collaboration within companies has become well and truly digitalised. But how do we communicate efficiently with suppliers, clients and business partners? These practical examples show how you can benefit from digitalisation in the context of external collaboration.
The coronavirus crisis has accelerated digitalisation in SMEs. But where exactly is this being felt? Everyone working from home means that meetings are being held online and via video conference. And shared file repositories and chat channels have certainly facilitated and improved long-distance communication. As a result, employees have been able to maintain a certain degree of proximity, at least in virtual terms.
Learning from internal digitalisation
According to a survey of Swiss SMEs, the number of staff working from home almost quadrupled during the first lockdown. And one in five meetings took place online. The last few months have led to companies becoming more digital – at least in terms of internal communication. You, too, have probably become increasingly familiar with dealing with the various digital channels – and discovered their advantages.
But why not use these advantages in digital communication and collaboration with external parties, i.e. with suppliers, partners and clients? There is a lot to gain – namely efficiency, time and money.
Of course, these three factors are interlinked. But let's take a look at the details and some concrete examples. Given the widespread use of Office applications, the examples refer to Microsoft 365.
Achieving results instead of waiting around: efficient digital communication
Efficient working can mean reducing the number of steps required to achieve a certain goal, or avoiding queries. The following concrete examples illustrate this:
If you integrate fixed-line telephony into Microsoft Teams, you can be contacted anywhere. Using the Teams app on your smartphone or laptop means you can use your fixed network number while you are out and about, too, thereby increasing your reachability. And if you don't want to be disturbed, you can set up automatic forwarding.
With telephony integration, you can access your company's central address book in Microsoft 365 from Teams and call people at the click of a button. You only have to update addresses in one place instead of in separate directories for your phone and Office.
Use a shared cloud file repository for joint projects with external companies. This not only means that all the relevant information is stored in one location; you also avoid sending documents and have the assurance that everyone is up to date at all times.
Set up cross-company group chats and online meetings to speed up exchange among all stakeholders.
Success story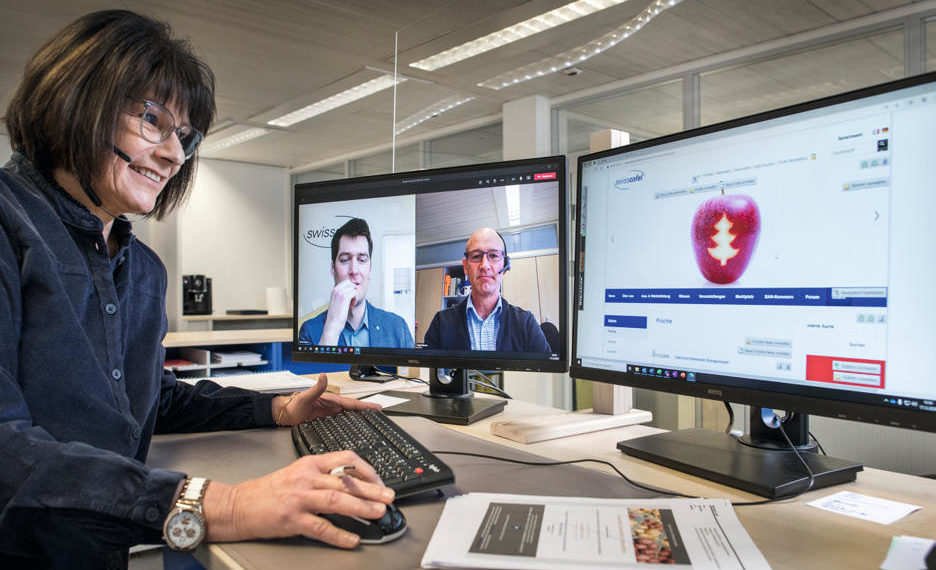 SWISSCOFEL, the Swiss association for the fruit,
vegetable and potato industry, uses Swisscom telephony for its internal and external communication. Find out in the company's success story how this saved costs for telephony and meetings..
Eliminate time-consuming processes: use online applications
Working efficiently saves time, of course. But digital communication solutions can also eliminate lots of small, time-consuming processes, as these examples show:
If your suppliers and business partners also use Teams, you can see their availability in the status display. This reduces the number of unsuccessful calls and enables you to send a chat message as an alternative.
Online scheduling and reservation systems prevent staff from having to interrupt their work in order to deal with requests. In addition, this also allows clients to book slots outside of opening hours.
There are various solutions for making appointments and reservations, such as MyCOCKPIT and MyLOCALINA by localsearch and Microsoft Bookings in the Business versions of Microsoft 365.
Reduce costs: save with digitalised processes
By digitalising certain processes, you not only save time but also money, as certain expenditures are no longer necessary. This is the case, for example, in the following situations:
Sending invoices electronically saves on office materials, toner and delivery costs.
In the case of repairs or problems on a construction site, you can send the responsible people photos or show them the situation via video conference. This will enable the service provider to bring the necessary materials when they come, which saves expensive empty-handed journeys.
The best thing about digital collaboration with external partners is that even when internal meetings go back to taking place in person, you can continue to benefit from online collaboration with external partners. The investment is worth it in both the short and long term.
Microsoft Teams telephony by Swisscom
Microsoft Teams becomes a telephone system: Microsoft Teams makes it possible to make and receive international calls directly from the desktop or mobile app using your own landline number – all with the usual Swisscom quality. This not only enables your employees to communicate more efficiently; they can also work together more easily thanks to the integrated Microsoft 365 apps.