An idea became a hobby, then a part-time project and ultimately a start-up: Simon Krähenbühl and Silvia Nadenbousch have been working full-time on their glasses label LARS Brillen for several months now. In an interview, the pair discuss their route into self-employment, designing flexible leisure time and why human values are just as important as technical expertise when it comes to starting a company.
Simon, you originally set up LARS Brillen with two colleagues. How did this idea come about five years ago?
In fact, there were only two of us at the beginning – a colleague from the optometry sector and myself with my background in product development. The goal was to develop a new hinge for spectacle arms, one that prevents glasses from slipping down the nose. And we succeeded in doing so. Later, another colleague joined us and supported us with his IT skills. We had an optimal mix of expertise and complemented each other very well. In theory.
Why did this collaboration among colleagues break down?
Simon: Knowing each other and complementing each other's technical skills are certainly advantages. However, friendship alone is by no means a guarantee of success. In the end, the two co-founders wanted to focus more on their jobs, their families and their home lives, which was perfectly understandable to me. My aim, in turn, was to advance the project further. However, at the time, I had no idea how this should actually work.
What I would have liked to know about founding a company before I became self-employed is: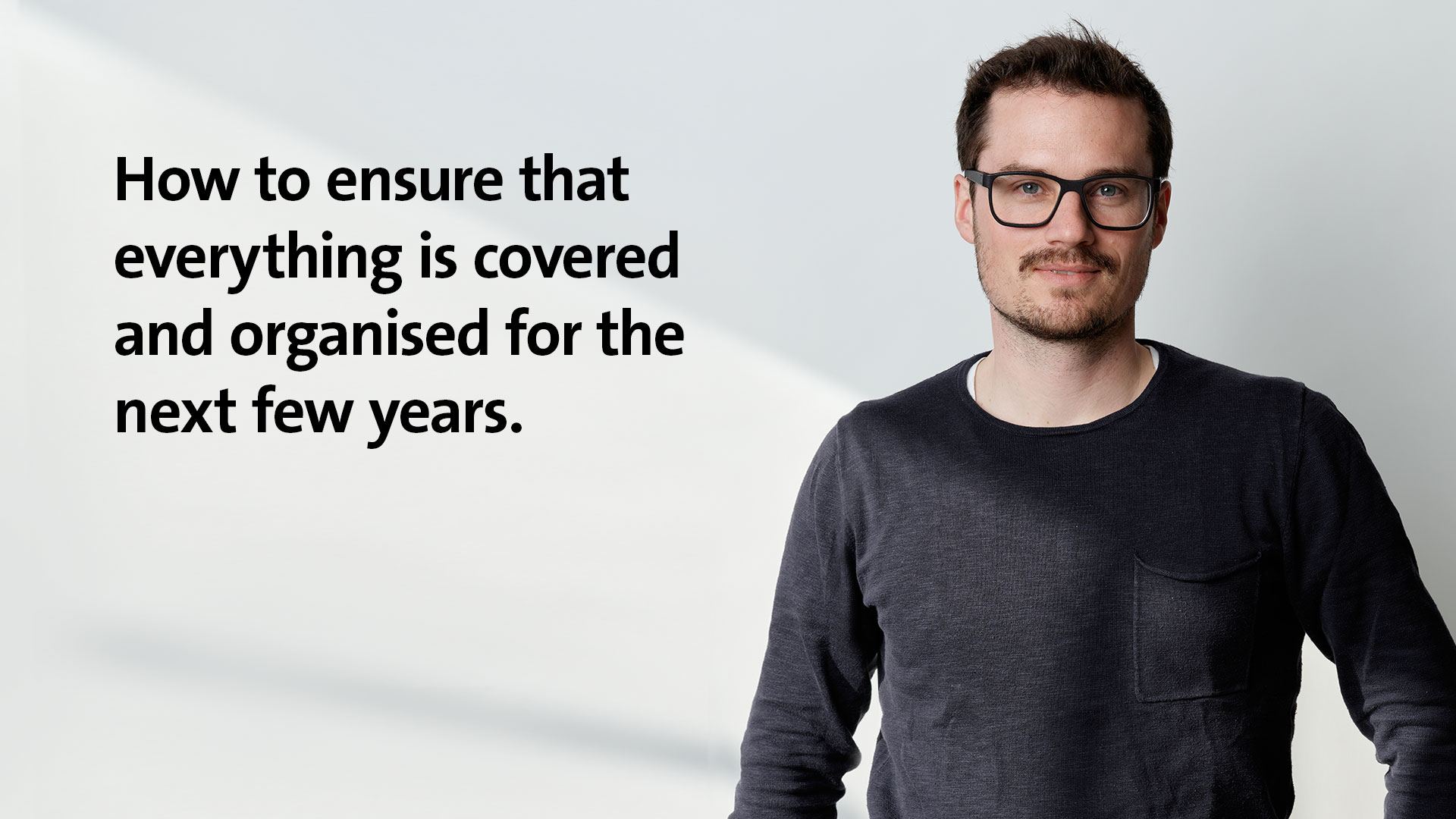 What does the optimal start-up team look like?
Silvia: Trust in each other is key. It's about having common values and a common personal and entrepreneurial attitude. You need to be able to communicate openly with each other, but also to withstand pressure and stress together.
Simon: It's important to interact openly and transparently. Any problem that is not solved at the human level will eventually lead to a problem within the company.
How exactly did your collaboration start?
Silvia: I was working in marketing communications for a big company and wanted a change. So I resigned without any particular plan, in order to discover the areas in which I wanted to develop professionally. Although I felt I had the entrepreneur gene, I didn't have any concrete ideas yet. During my break, which lasted several months, I travelled a lot and also worked as a freelancer. Simon and I met in the Bern start-up scene and got talking.
Simon: I knew I didn't want LARS to be a one-man show, so I was looking for support. Because in order to achieve something, you need a good team. So I went through various start-up programmes, made important contacts and connected with Silvia in the process.
Simon, you also took a break in the last few years. Why?
For similar reasons to Silvia, because if you work full-time, you don't have time for your personal projects. You keep thinking about your own ideas, but you can't get anywhere. So I quit my job as well and spent about a year working as a cross-country ski instructor in the mountains and a bartender in the city while driving forward my glasses project. After that, I worked part-time for a few months until the time was right to focus fully on LARS.
What I miss the most about my last regular job is: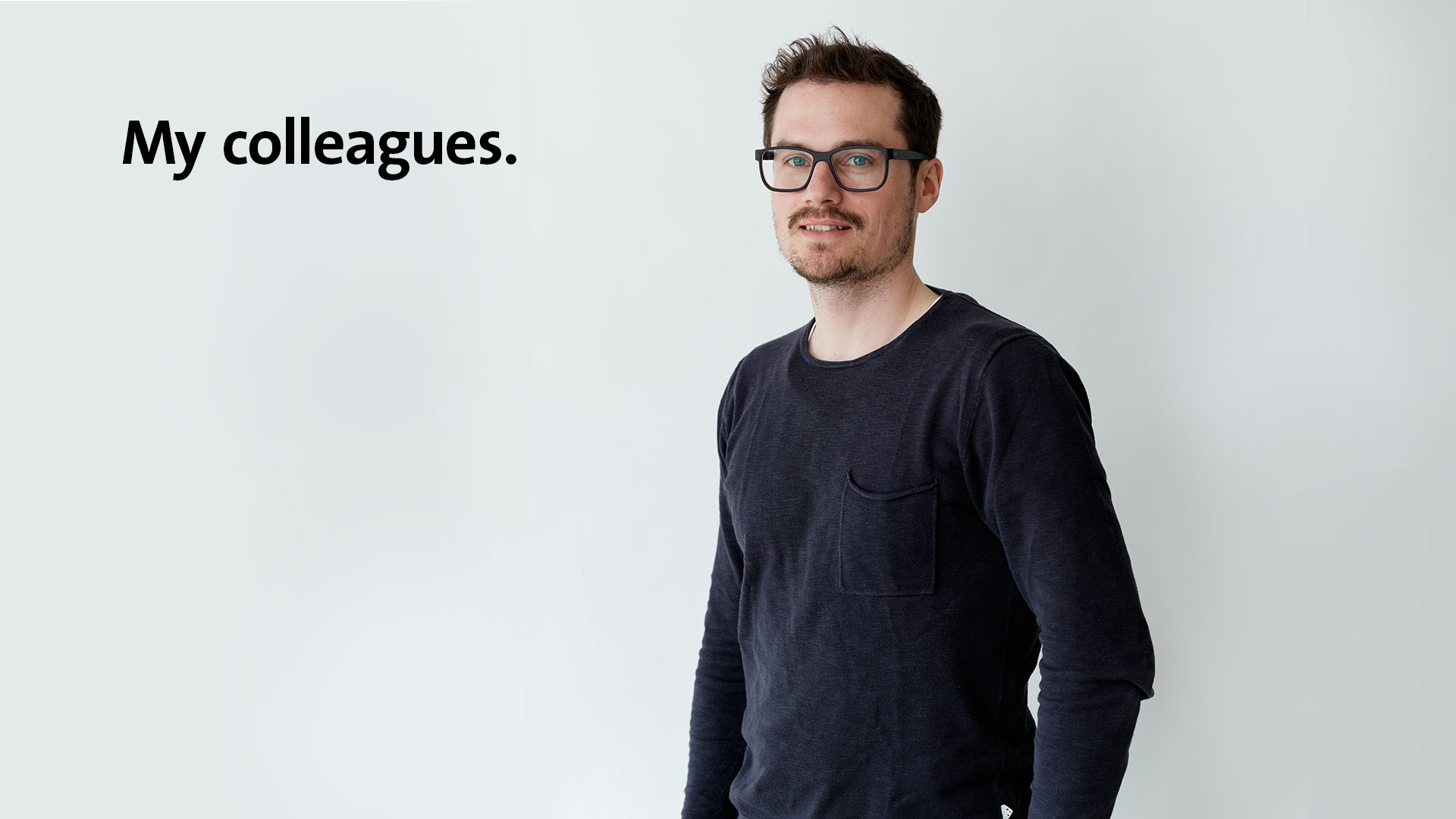 Silvia, what impressed you about Simon and his idea?
Silvia: I was impressed by the design and the Swiss-made aspect, and his values and humility also appealed to me. Furthermore, we had no previous history with each other and were able to lay the foundations for our collaboration in an unbiased manner. It was definitely an advantage that Simon had some experience. He was aware of the issues and questions involved in founding a company and was transparent about them from the outset.
Simon: I was looking for someone to help me with marketing and communications. So Silvia made flyers for me and did similar tasks. Over time, I could sense her growing passion for the project – she was almost more convinced by it than I was. And that's how my supporter, who initially worked virtually free of charge, gradually became a founding partner.
Self-employment: full-time or part-time?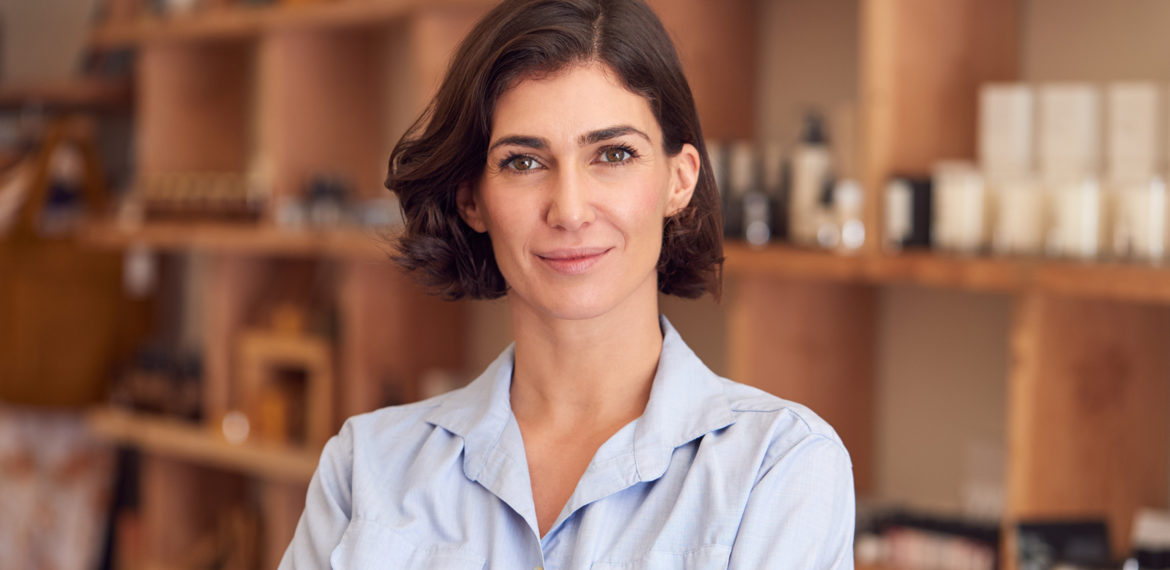 Should you jump right into the adventure of self-employment, or start out part-time? This article will help you decide.
A partner who entered your ongoing project, questioning and helping to determine your decisions. Doesn't that mean there is potential for conflict?
Simon: Not necessarily – after all, I was actively looking for that. I am also a team player who knows that ideas can improve and grow through exchange with other people. What's more, in a start-up, you have to do a lot of things at the same time; you can hardly handle them all on your own. If you can rely on each other, things are easier.
Silvia: If Simon didn't really want me to help shape things, I'd be the wrong person for the job. At first, I might have been a little reticent when it came to critically questioning his plans. But now it's clear that LARS is our shared project.
When is the ideal point to commit to a project full-time?
Simon: Being employed gives you financial security. That's why I wanted to find out whether LARS really had any potential before I committed to the adventure as a full-time project. I am also someone who wants to commit fully to everything he does and to see results. In a larger group, pathways are long and processes are often difficult. In a start-up, you can make much more direct progress – but you also bear all the responsibility.
Silvia: For me, it was a matter of passion. It was curiosity that led me to take this step. Clearly, people who prioritise financial security may not take this step. But my urge to try something of my own was stronger.
What I most underestimated about self-employment is: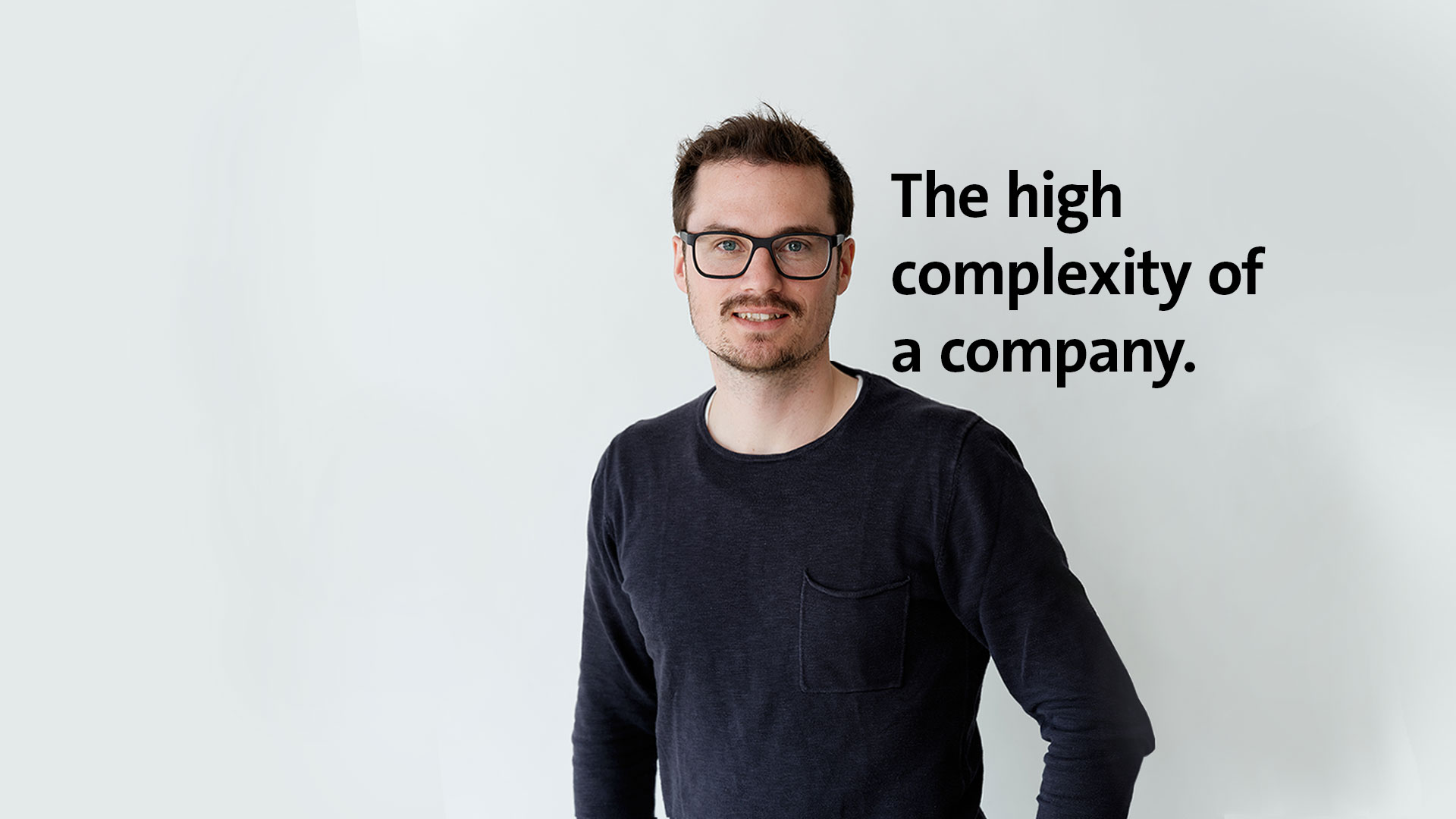 Information package for founders
'There is a lot to regulate and organise when it comes to founding a company. Get support with the process – there are many companies that offer consultations and special services for start-ups. As a result, you will lose less time on administrative issues and be able to concentrate fully on your business idea. Swisscom StartUp has been supporting new founders in choosing the right communications and IT solutions for more than ten years. We have compiled articles to help with the transition into self-employment in a new information package on our website.'
Carmen Vigo, team leader, Swisscom StartUp advisory team
How important is it to draw on professional external advice from time to time?
Simon: External bodies, managed programmes and consultations are very important. You don't have to do everything yourself. There are experts who can help in many areas. But at the end of the day, you have to make the decisions yourself. And discussions with other founders are often even more productive.
Silvia: Our office is in the Bernapark in Deisswil. It's full of young entrepreneurs and start-ups. There's always someone who can give you tips. The start-up scene is very diverse, but everyone faces similar challenges. We can all benefit from each other in one way or another. For example, when it comes to clarifying legal issues, defining the market management strategy or finding investors.
Investing in your company usually means saying goodbye to things like holidays and new clothes. Do you find this difficult?
Silvia: Many purchases are often not necessary at all, and refraining from buying things can also be freeing. Holidays abroad weren't possible last year anyway. You learn to manage on a smaller budget. There are plenty of ways to reduce spending.
Simon: However, it's also important to indulge yourself a bit from time to time – with a nice meal or a trip. I have learned to value the small things more and to be grateful. Because fundamentally, we're not missing anything.
What would the people around you say has changed most about you in self-employment?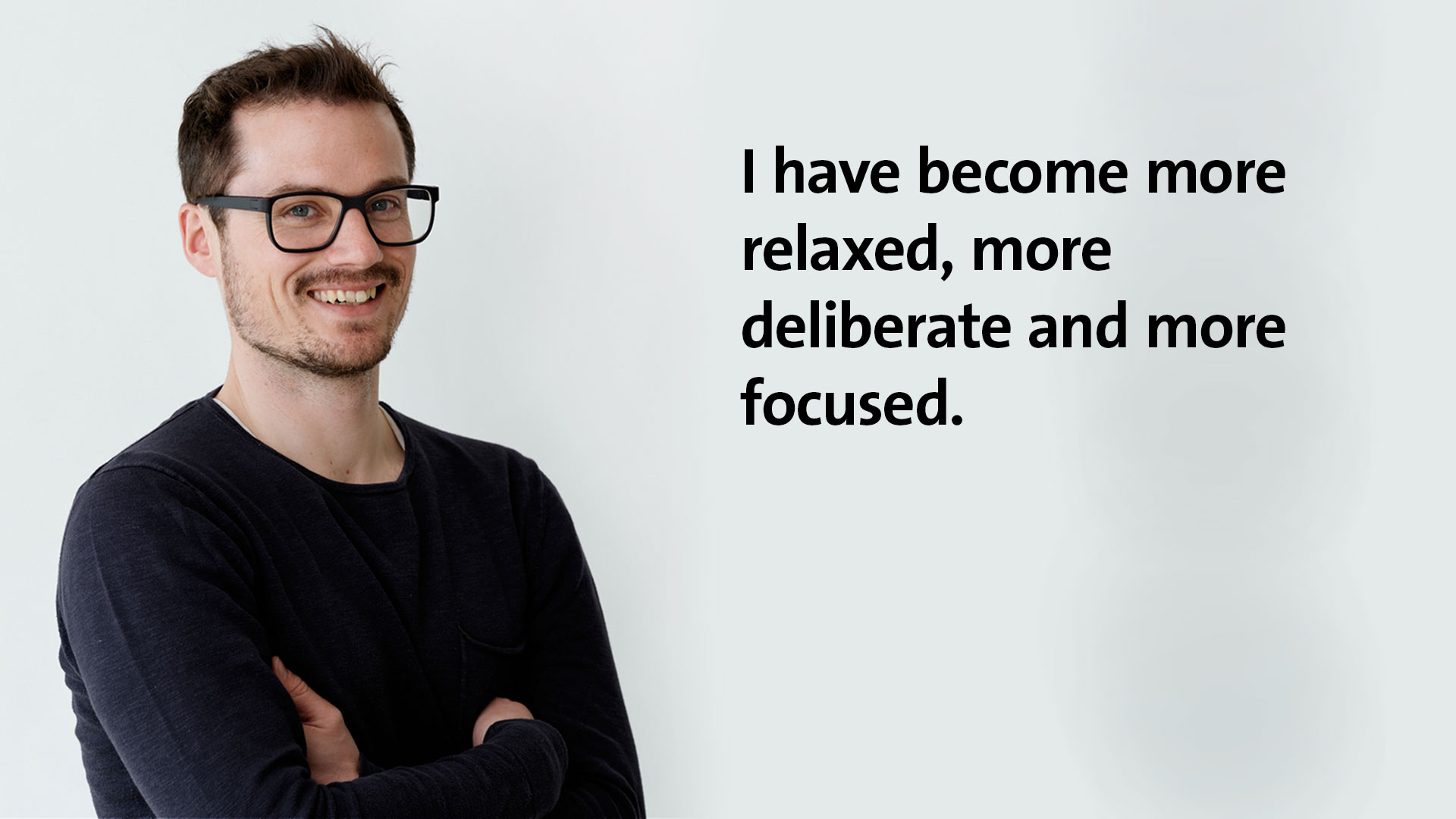 What about leisure time? Anyone who wants to get a start-up off the ground always needs to stay on the ball…
Simon: Breaks are very important. You can't run a marathon at a sprint. It's vital to deliberately plan recovery periods, sport and time for yourself so that you can regain your energy, spend time in nature and – at least on Sunday – avoid thinking about business.
Silvia: Unlike with a full-time job, we can allocate our time more flexibly – our work is not linked to a day of the week or a particular time. If the sun is shining during the week, I can spontaneously get on my racing bike, and catch up on my work on a rainy weekend.
What should founders know before they take the step from part-time to full-time?
Silvia: The most important thing is the inner conviction, the gut feeling of wanting to take the leap. And trust in your idea, your team and yourself. A secure environment provides additional stability. We both have understanding partners who support us in our project.
Simon: Jumping in at the deep end is always a risk. But it also gives you the opportunity to engage with your ideas afresh every day. You're not delivering for others, you're delivering for yourself. Sure, sleepless nights are part of it. But a certain amount of pressure can have a stimulating effect.
LARS glasses
LARS glasses are fully developed, designed and produced in Switzerland using 3D printing. Industrial designer Simon Krähenbühl and business administrator and marketing/communications specialist Silvia Nadenbousch's USP is a specially designed hinge. Each pair of glasses consist of a front, two arms and four pins. The arms can be clicked on with a little pressure and hold the glasses firmly on the nose. LARS glasses come in different models, including sunglasses.