 Swisscom Hero League Season 5
Get ready. Season 5 of the Swisscom Hero League is about to start, with prize money totalling CHF 18,000 up for grabs. On 12 March, thanks to Swisscom and ESL, you can find out how to make your team more professional at a pro esports workshop that will be open to anyone. Teams reaching the play-offs will also receive financial support. Further information can be found below.
You can register for the qualifiers here
Clash Royale
Qualifiers: 20 & 27 February
Group stage: 15 March – 7 April every Monday & Wednesday except 5 April (live stream)
Quarter-finals: 12 April (live stream)
Semi-finals: 19 April (live stream)
Final: 8 May (live stream)
Counter-Strike: Global Offensive
Qualifiers: 20 & 27 February
Group stage: 16 March – 8 April every Tuesday & Thursday except 6 April (live stream)
Quarter-finals: 13 & 15 April (live stream)
Semi-finals: 20 & 22 April (live stream)
Final: 8 May (live stream)
League of Legends
Qualifiers: 10 & 11 April
Group stage: 17 – 22 April
Quarter-finals: 26 & 27 April (live stream)
Semi-finals: 29 & 30 April (live stream)
Final: 8 May (live stream)
Esports incentive
Swisscom supports the professionalisation of Swiss esports. As well as the workshop, which is open to all players, including those not participating in the Swisscom Hero League, Swisscom is providing financial support of CHF 200 for those who meet the following criteria.
Team in the Swisscom Hero League play-offs (from quarter-finals)
At least three social media posts linking to @Swisscom_Gaming & @ESLSwiss
High-definition images with the same outfit before first play-off match
Workshop esports
You have what it takes to be one of the top swiss gamers? March 12th, we will give you, in collaboration with ESL, an introduction to the necessary key elements you need to launch yourself into a professional career in Switzerland.
Get an understanding of the key players in swiss esports, learn how to found an eSport organisation and discuss with experts about the importance of social media and sponsors.
Esports at Schools
Swisscom is now offering Swiss schools a 'Gaming and esports' course in which pupils can develop their gaming knowledge and skills. The course is a major addition to Swisscom's support for the gaming sector at the start of the fifth season of the Swiss Hero League.
Fast connection, no lags.
You want to stream smoothly, play games and download the latest game at the same time?
Ultra-fast fiber optic network with speeds up to 10 Gbit/s
Blue TV
The top provider for gamers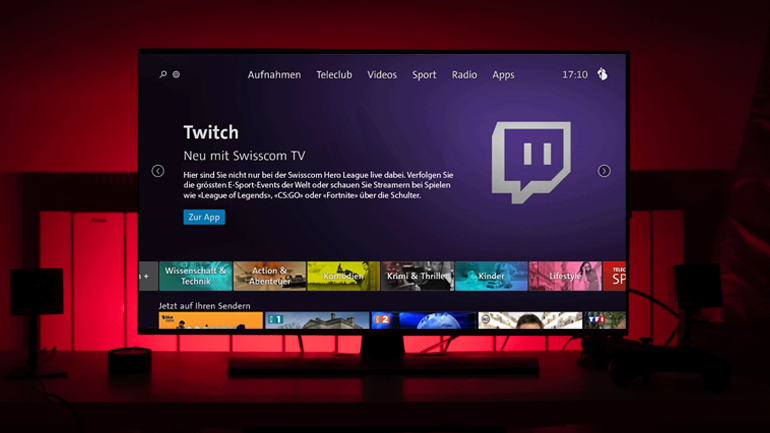 Swisscom is Switzerland's first operator to bring the Twitch game-streaming experience to TV screens, so Twitch fans no longer need to rely on their small computer or mobile screens. Blue TV also shows you at a glance what's new and exciting in the esports world thanks to gaming channels EsportsTV, GINX TV and ES1, as well as numerous gaming apps.
Swisscom Gaming
In order to promote gaming and Esports in Switzerland, Swisscom founded the Swisscom Hero League in September 2018, with the support of international organiser ESL. The Hero League sees the best Swiss players vying for first place in League of Legends, Clash Royale and Counter-Strike: Global Offensive. Swisscom is also the main sponsor of mYinsanity Switzerland, the biggest Swiss Esports team, and the Swiss Esports Federation (SESF).
Main partners
Partners
Streaming Partners
@Swisscom_Gaming
You can find the latest news about gaming and eSports on Twitter.
Swisscom Gaming on Twitter
The official Swisscom channel for Gaming, eSport and Hero League.
Swisscom Pay
Forget credit cards or PayPal – enjoy safe, secure payment via your mobile phone bill.
1 Valid for new inOne home Internet L, M or S subscribers.
2 The available speed depends on the local optical fibre expansion and the router in use. A Swisscom connection with an optical fibre line to the home is usually required for identical upload and download bandwidths.