Sitting in front of a laptop and programming for nearly 40 hours straight: why would someone do that to themselves? Max Eichenberger is one of the 600 participants at HackZurich. He has a convincing answer for us – and also debunks a few stereotypes about programmers or "hackers".
The prevailing atmosphere at Technopark Zurich is one of tense silence. Only the quiet tapping of laptop keyboards can be heard. Around 600 people sit side by side at small tables in the large entrance hall, hunched over their screens and deep in concentration. The participants of the digital festival HackZurich have been working on different projects for the last 16 hours – and in 40 hours, it'll all be over. Almost half a million lines of code will be written during this time, a volume that would usually take one person around 11 years to write.
Pizza and debunked stereotypes
Max Eichenberger is one of the "hackers". But the 25-year-old isn't really what you'd expect from a computer freak (nerd). Max isn't a computer scientist; he's a mechanical engineer. Programming, however, is part of his job. "I studied programming as part of my degree," he says. He also likes pizza, the staple food at HackZurich – one stereotype it does live up to.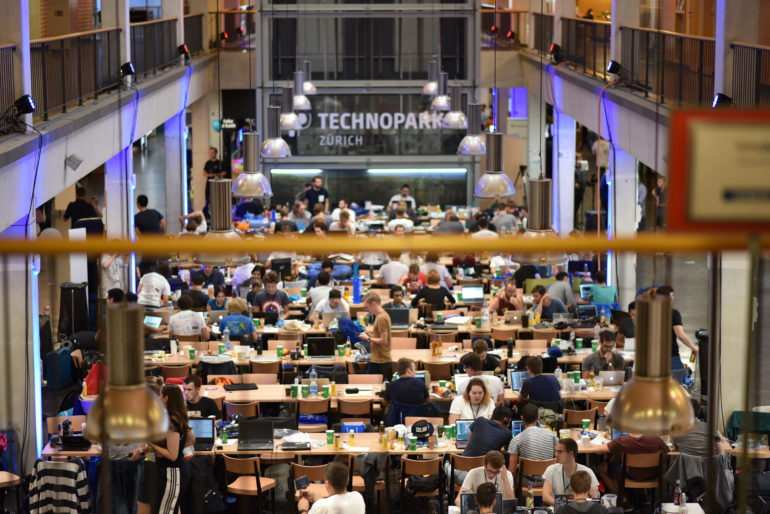 But what motivated him to spend all of his time from Friday evening until Sunday morning in front of the computer screen, giving up precious sleep – and all this without being paid? His answer reflects his enthusiasm for logic: "The word festival is derived from 'fest' – people coming together for a joint experience, which really appeals to me." This doesn't line up with the stereotype of a lonely hacker. Besides, the 600 participants at HackZurich have already disproved that stereotype.
Learning through a living project
For Max, it's not just about the experience: "I also hoped to learn something from the other people taking part." This exchange of knowledge is an integral part of HackZurich. Around 30 companies sponsor Europe's largest hackathon, and each announced different 'challenges'. They then try to persuade participants to take part in their challenge. They hope to find groups that are enthusiastic about their projects and will further develop them. Some participants come as a group to the hackathon, while others form groups spontaneously at the event.
Max decided to take part in the drone project, which Swisscom and the start-up company Involi announced together. Involi has set itself the goal of monitoring low-level airspace, aiming to make it much safer. The air traffic data they collect allows drones to "see" and avoid aeroplanes, helicopters, etc. At HackZurich, the aim was to develop algorithms that can calculate relevant avoidance manoeuvres. "As a mechanical engineer, I really like this combination of computer science and engineering," says Max, "and I find autonomous systems particularly fascinating."
"I learned about new tools and met new people."
Max quickly made friends with a group who were also interested in this project. "Our skills and interests were a great match and we immediately clicked," explains Max, adding that the atmosphere among the participants was very open in general. In the 40 hours between Friday evening and Sunday afternoon, Max and his three Polish colleagues developed an Android app that simulates avoidance manoeuvres, based on the airspace data from Involi. Clearly, "GodMode", as the group calls themselves, did a good job – out of the six teams that were also taking part this challenge, the team of four won.
Survival methods
Just how did Max survive these 40 hours of "hacking"? Programming requires great concentration. "When I got tired, I had something to eat and drink," he says. "And slept for about four hours in total." He adds a decisive point about how to get through such a marathon – "I really enjoyed taking part, it was cool!" Once he's caught up on his lack of sleep, we asked if he thought that taking part was worth it: "Yes, I learned about new programming tools and approaches," he says. "And now I have a better idea of where I stand. I made new contacts and can recommend the hackathon to anyone who is interested in programming." He got a lot out of the long weekend. "As well as numerous gadgets and a sugar rush," laughs Max.