IoT systems create valuable new opportunities for companies to support their business. But focusing on connectivity alone is not enough to successfully navigate the digital transformation. Five questions, tips and answers about the key requirements.
Cost pressure, agility, service orientation, new use cases: companies are currently under greater pressure than ever to remain competitive. The solution to many of these business challenges lies in the added value of data. In order to make profitable use of existing or newly generated data, it must be integrated into modern infrastructures with a clear concept. Roger Kaspar, Lead Data-Driven Business at Swisscom, is familiar with the requirements and pain points of companies that are up-to-date with the digital transformation and need new impetus. He answers five pressing questions.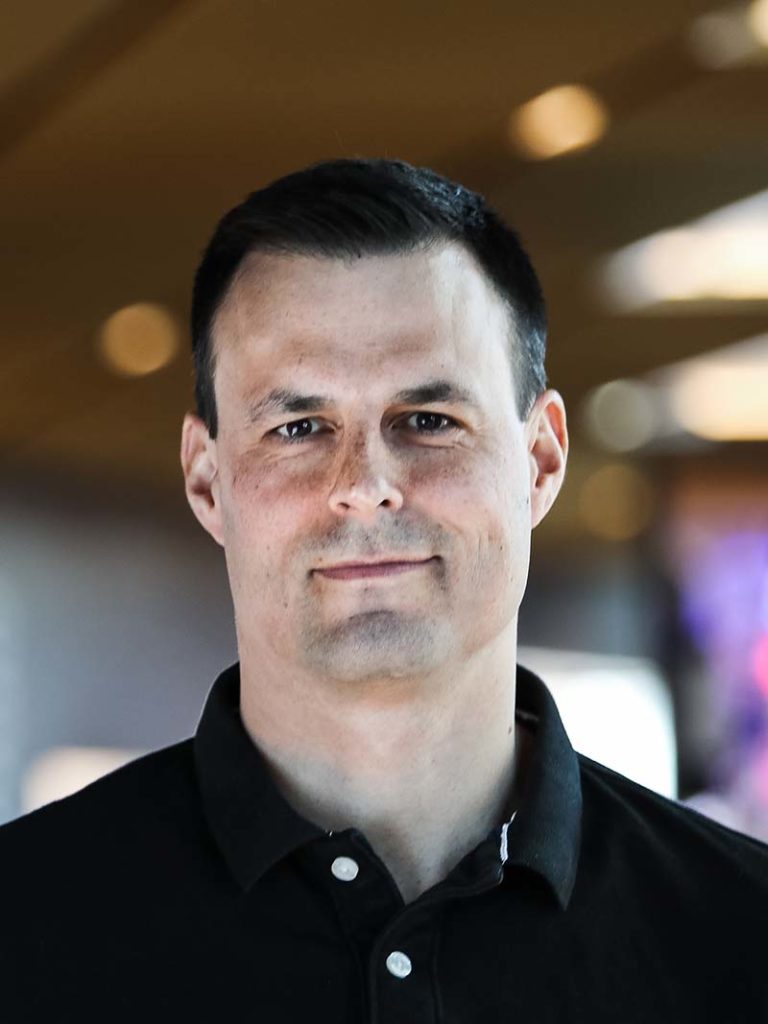 'Connectivity alone is no longer enough. You need to transform your generated data into added value.'

Roger Kaspar is Lead Data-Driven Business at Swisscom. He is an IoT pioneer and a proven expert in digital transformation projects. He is in constant contact with companies from all sectors and knows what is important and what challenges they face.
Five questions for the expert about IoT and data-driven business
1. How has IoT changed in recent years?
In the past, the focus was on the technical aspect, i.e. the connectivity of devices, sensors and machines. With new technical possibilities, machines can be connected to each other to bring about certain benefits. Today, this technical approach is often no longer enough. Just connecting things together because you know how to do it is not productive. Now, the focus is on targeted data acquisition, data utilisation and, above all, the resulting added value for the business. We have to move away from the fixation on technology and follow a benefit-oriented approach.
2. How does data create added value?
On a data platform fed by different sources, suitable applications and analyses within the data sets generate new patterns, insights and thus possible use cases that are not possible with an isolated approach. An IoT system could be one of these data sources, but so could ERP or other silos such as databases, BI analyses, logistics and CRM software, and so on. By addressing new questions and 'marrying' different data sets, new applications can be tried out easily. Existing data silos therefore need to be dismantled and integrated into a modern data platform such as a data lake or data warehouse in order to actually derive added value from the data.
3. How do companies generate new digital use cases?
An adequate digital strategy is needed to create the technical, organisational and procedural basis for new business applications. The data platform I've already mentioned – and therefore data available with the required performance – is also needed. Without this foundation, the effort required to introduce new use cases is enormous, because the entire layout has to be rebuilt each time. On a modern data platform, ideally in the cloud, new ideas can be implemented more easily and quickly.
Successful use cases differ from others in that they have a clear added value as their objective – such as increased efficiency, new services or new business models. A focus on the end user – i.e. a user-centred design – also helps such new opportunities to be explored.
4. How does a company become a digital-driven business?
The digital strategy must be derived from the business strategy and consistently followed. A cross-company data concept and a modern data platform without silos are just as important as the question of how to incorporate the cloud. IoT and cloud infrastructures can become drivers of new business cases and thus data-driven business.
5. How is Swisscom helping to implement the digital transformation?
We take a holistic approach and do not just look at individual needs; we also analyse the situation and the digital maturity of a company holistically. To develop a digital strategy, we use our 'Rethink your digital journey' framework. The aim is to find out where the obstacles lie and how data can be used profitably. It is essential that this is determined at an early stage of the digital transformation. We often see that companies only use external expertise when it comes to detailed implementation (for example implementing connectivity to develop an IoT system). However, it is much more beneficial to create a solid foundation for the entire future digital data business from the outset, ideally with external benchmarking, otherwise the approach is almost always too technology-focused.
Advice on digital transformation?
Would you like to rethink your digital business? Thanks to our proven customer-centric Rethink method, we can tackle your business transformation together.
Tips and success factors for the digital transformation
Rethink your digital journey: rather than starting with a single use case (IoT networking, app, etc.), rethink your digital business and develop a modern data strategy.
Expertise: take advantage of external expertise on the transformation, implementation plan and technology.
Create value: find added value in the data and make use of it.
User-centred design: align your digital strategy with end users (customers, employees) and consider the pain points of the business.
Data integration: move existing data sets or new data generated by IoT to a data platform (data lake, data warehouse in the cloud) and use more intelligent processing methods (analytics, AI, ML, BI)