Read our interview with Sébastien Baconnier, Operations Director at the Vaudoise Arena, a sports centre in the Lausanne region. During the interview, we reflect on the arena's collaboration with Swisscom to implement a reliable alarm system, which ensures that customers from the area can now enjoy this unique sports centre in complete safety. What are the benefits for internal teams and external service providers?
Could you start by telling us a bit about the Vaudoise Arena?
Sébastien Baconnier: The Vaudoise Arena is a sports centre in Prilly. Our facilities include an ice center with three ice rinks, an aquatic center with five pools, a fencing hall and a table tennis hall, and we are home to 11 local clubs. The diving pool is actually a national training centre. Our ice rink can be converted into a concert hall, which also enables us to host regional events for up to 11,000 people. We have already welcomed artists such as Kendrick Lamar, Sting and Texas, and we intend to keep this momentum going.
eAlarm crisis
eAlarm crisis is a reliable and professional solution that enables the transmission of multiple alarms anywhere and at any time to optimise crisis management situations.
To open the centre, it was imperative that we had an end-to-end, user-friendly multi-system alarm transmission solution (telephone, SMS) in place, capable of differentiating between several groups of alarms (such as the aquatic centre, the ice-skating centre, the buildings, the fire alarms, etc.) as well as several groups of individuals (such as engineers, lifeguards, security officers, etc.). Our previous solution only offered e-mail alert capabilities, which was not sufficient, particularly in emergencies. Siemens, who were already involved in the project, referred us to Swisscom's solution, due to their own positive experience of working with them in a similar context. I am happy that we chose this solution. It offers everything we need, is perfectly functional and has already demonstrated its reliability in other companies with similar demands to ours.
What is the added value of this solution for your teams?
The solution operates effectively, enabling us to be responsive and to alert the right group of individuals. Thus, we are able to deal promptly with any alarm and respond within an hour. Our on-call service can now be contacted 24/7 by SMS and voice message.
How did project implementation go?
Very well. Everyone involved knew what they were doing, we had clear expectations and the team from Swisscom was highly skilled. Prior to its implementation, we feared that the project would exceed our budget due to the number of alarms involved. However, Swisscom's fixed-price package was able to meet our requirements. Moreover, thanks to the Siemens and Swisscom teams' expertise and experience of collaborating on similar projects, the project was completed within the set time frame.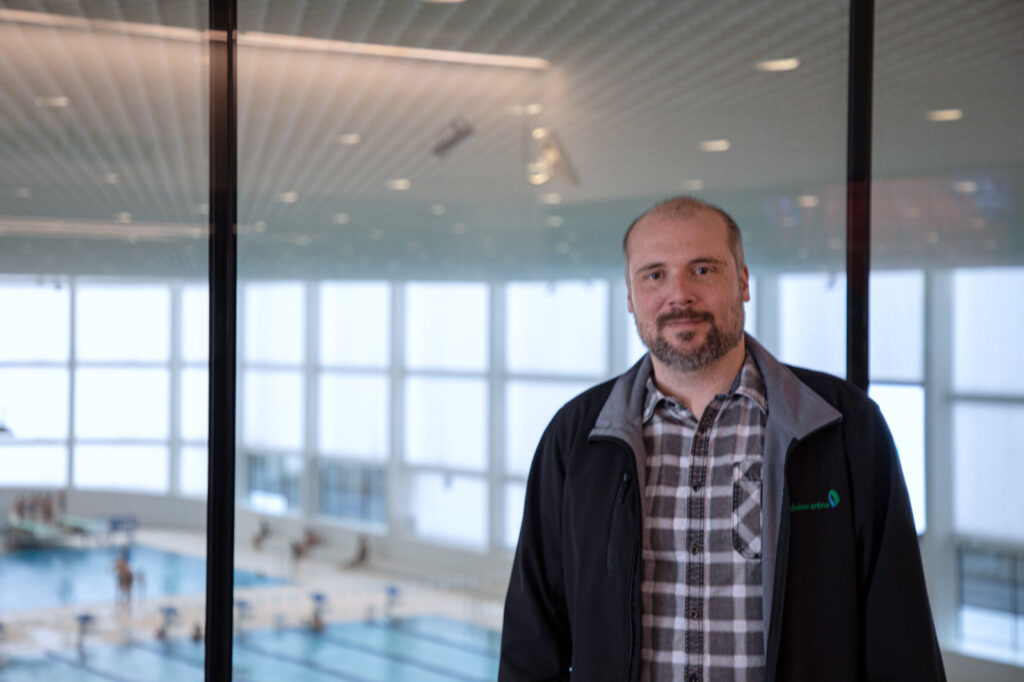 Are there also benefits for Vaudoise Arena's customers? And for your service providers?
Whilst they may not realise it, customers now enjoy a much more secure infrastructure. Furthermore, the solution has considerably facilitated the work of a number of our service providers. For example, the security team now receives more detailed information, enabling them to optimise their emergency response. The added value therefore lies in the improved communication channels as well as in the solution's user-friendliness.
The solution has been operational since 1 September 2022. How is it from a maintenance perspective?
There are updates and improvements that need to be implemented from time to time, but nothing more. Swisscom takes care of this during defined maintenance windows, usually Monday mornings. Furthermore, my team regularly makes thorough checks on the entire transmission channel from the infrastructure right through to the devices receiving the alarms.
How do you evaluate the collaboration with Swisscom?
Top! Although not the cheapest solution, it did not exceed our budget and offers great value for money. Given the volume that we have to manage, we expected a certain level of service from Swisscom, as well as a reliable, functional solution. And that's what we got!
I'd also add that we later realised that there was no 'watchdog' system (i.e., an alarm triggered in the event that two systems stop communicating with each other), so we quickly put one in place. The system is now highly effective, which is thanks to the excellent communication between the Swisscom and Siemens teams. For us as clients, it is extremely important that partners coordinate and work together towards a common goal.
A final word?
Thank you and well done to the entire team! A community draws its strength from its people.
eAlarm crisis: respond to emergencies within your company
eAlarm crisis is a reliable and professional solution that enables the transmission of multiple alarms anywhere and at any time to optimise crisis management situations (accidents, natural disasters, IT system failures).
Enjoy a free demonstration now or arrange an online consultation with one of our experts.