Blockchain – it's a term that triggers mixed reactions. But the technology is not just for speculating with cryptocurrencies. It can also transform new business models into SMEs. The company daura is an example of how this can be done.
Is blockchain technology suitable for business applications outside of cryptocurrencies? Yes, says Peter Schnürer, CEO of daura AG. The company maintains digital share registers for SMEs on a blockchain basis and enables virtual Annual General Meetings to be held.
But first things first.
In 2008, a person or group under the pseudonym Satoshi Nakamoto presented a decentralised public system to authenticate and record transactions of the cryptocurrency Bitcoin. It was decentralised because anyone could participate in the authentication of the individual entries or "blocks". This process, known as mining, uses cryptographic methods to validate the authenticity and order of the blocks. These are linked to each other in such a way that subsequent manipulation would break the link to the next block and thus immediately be uncovered. Each miner stores a copy of the blockchain themselves, which is why the approach is also referred to as distributed ledger technology (DLT).
A way for SMEs to attract new investors
The sender and recipient of a transaction are also identified using cryptographic procedures. There is no central control body. Or, as Peter Schnürer puts it: "Our share register allows companies to issue and distribute shares themselves, for example for founders, business owners and employee participation." The advantage for non-listed companies is that there is no central control body, which, on the one hand, speeds up the issue of shares and, on the other hand, reduces costs. "We are, to a certain extent, a digital printing machine for shares," summarises Schnürer regarding the principle behind daura.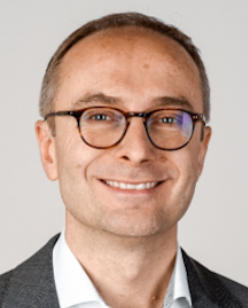 "We are, to a certain extent, a digital printing machine for shares."
Peter Schnürer, daura
This makes it possible for SMEs to take a different approach to shares. They can issue shares themselves, whether for the purpose of involving new shareholders or to increase capital. "This is a game-changer," says Schnürer. "daura gives SMEs access to new investor groups."
No paradox: with blockchain, it's all about trust
With daura, Peter Schnürer does not, however, rely on a public blockchain such as that of Bitcoin or the Ethereum platform. Instead, daura relies on the private Swiss Trust Chain run by Swisscom and Swiss Post. In this context, "private" means that Swisscom and Swiss Post validate entries and monitor each other. In other words, these are trustworthy partners, unlike a public blockchain involving unknown participants. This makes the agreement process – complex cryptographic calculations – much faster and more efficient. Consequently, it also requires much less energy for electricity and cooling than Bitcoin, where a large number of computers are competing to be the first to validate the blocks. "With the Swiss Trust Chain, we offer companies from regulated sectors such as healthcare, energy supply and the financial industry a secure platform for digital transactions," explains Roland Cortivo, Head of DLT Infrastructure at Swisscom.
With the Swiss Trust Chain, the data is safely stored in Swiss data processing centres, not scattered around the world. "It is important for companies to know that their digital share register is stored in Switzerland," says Schnürer. "This creates more trust in the technology than in a public blockchain."
Managing digital goods using blockchain
There are no differences between private and public blockchains when it comes to application options, however. "The technology is predestined for the safekeeping and trading of all kinds of assets," says Peter Schnürer. "Transactions and contracts can be processed automatically and legally, which is one of the major advantages over traditional approaches." However, this is only the first stage of evolution, which is still very close to the format of cryptocurrencies.
Schnürer can well imagine blockchain becoming widely used to manage proprietary rights in future. daura has already taken a step in this direction. When the coronavirus crisis prevented physical gatherings, the company focused on developing a method for carrying out digital Annual General Meetings. "This is particularly appropriate for extraordinary AGMs, which focus on making decisions and not on personal interaction," says Schnürer.
Shareholders take part in these virtual AGMs from their computer. Authorisation and access are granted directly via blockchain. Because each attendee is linked to their shareholding, the voting rights are also established, and votes can be cast at the click of a button. The fintech start-up YAPEAL recently successfully carried out its AGM on a virtual basis. Schnürer is convinced that such virtual approaches will continue to exist in the future: "Digitalisation will continue to be a growth area either way. And the signals from our clients are also clearly pointing in this direction."
Tips for SMEs: getting started with blockchain
Do you want to implement your own applications and business models on a blockchain basis within your company? As a first step, Peter Schnürer recommends using this list of questions:
Is it a suitable use case? Are factors such as audit-proof records and automated processing of contracts and transactions important?
How trustworthy are the partners involved? What is the partner ecosystem like, i.e. the parties involved in the project?
Could the project also be implemented by conventional means, i.e. using a central database? Or are there advantages to be derived from a decentralised, automated approach?
Is this a new or revised business model that would benefit from the specific characteristics of distributed ledger technology?