Data is the foundation for a company's digital transformation. In order to acquire data, make it usable and generate added value, Swisscom supports planning and implementation along the entire value and technology chain.
It's not enough to simply use databases for their originally intended purpose. Real added value is generated from data when it is used in conjunction with other data sets. To achieve this added value, data from different silos must be merged, stored, structured and made usable on a central data platform. A digital strategy that focuses on the value of data paves the way for a data-driven business.
The following graphic shows the most important factors for gaining added value from data.
The path to a data-driven business
The transformation of a company to a data-driven company is shaped by many factors and can take place in very different ways. The following infographic shows the key components of the consulting and implementation process. From A to Z, Swisscom supports companies taking a holistic approach on their digital transformation journey, using the 'Rethink your digital journey' framework to help them systematically rethink their current digital strategy.
The Rethink framework
With the 'Rethink your digital journey' framework, Swisscom supports its customers in the areas of digital strategy development, design, implementation and operation of digitalisation projects – with a particular focus on feasibility, cost-effectiveness and added value.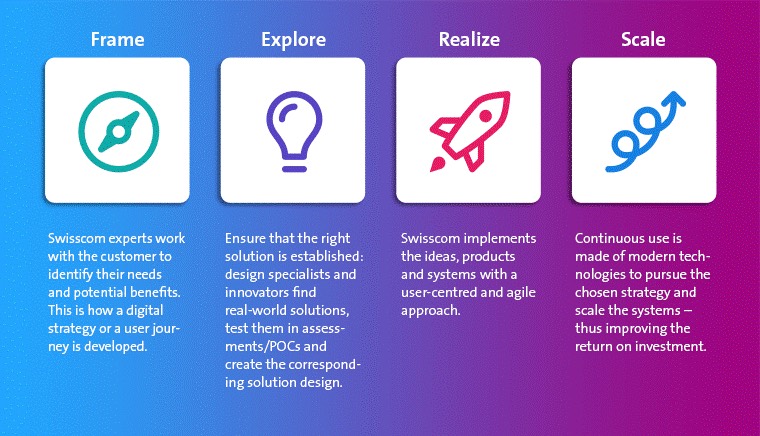 Frame: Swisscom experts work with the customer to identify their needs and potential benefits. This is how a digital strategy or a user journey is developed.
Explore: Ensure that the right solution is established: design specialists and innovators find real-world solutions, test them in assessments/POCs and create the corresponding solution design.
Realize: Swisscom implements the ideas, products and systems with a user-centred and agile approach.
Scale: Continuous use is made of modern technologies to pursue the chosen strategy and scale the systems – thus improving the return on investment.
Contact us
Our experts will be happy to answer your questions.