The evaluation of machine data via a central cockpit at Geobrugg AG puts an end to the time-consuming process of working with Excel files in production. The low-code solution has not only improved transparency, but has also increased manufacturing efficiency.
White paper: Your path to a smart factory
Would you like to digitise your machines, systems and processes easily and sustainably? This white paper explains how you can approach shopfloor digitisation in your company.
As a globally active supplier of protection systems against natural hazards, for the construction industry and for motor sports, Geobrugg has its own fleet of highly specialised and self-developed machines for the production of steel mesh. Up to now, their performance data has been monitored, documented and evaluated on a decentralised basis, making it available in real time – if at all – only locally. Together with Swisscom, the company found a way to read the machine data and store it centrally in a uniform OEE (overall equipment effectiveness) data model. After just a few months, it became clear that the near-real-time data improves transparency and creates the basis for quick decisions, greater efficiency and cost-effectiveness.
OEE: measure of overall effectiveness
OEE stands for overall equipment effectiveness and describes the overall effectiveness of a manufacturing operation. To this end, operation availability and productivity are combined with quality criteria in an objective, comparable indicator. Typical information that flows into the OEE model is the frequency and duration of machine failures, run-times or rejects in production.
From Excel spreadsheets to the advanced data cockpit
The global rollout of the solution at seven locations on all continents was completed in just five months. All performance data from Geobrugg machines is now stored and processed centrally. Up to now, the decentrally read data has been manually maintained in an extensive collection of Excel spreadsheets with 53 files and a total of 600 registries, which was time-consuming and error-prone. Re-linking at the end of the year alone took several weeks each time. A data graveyard that has failed to fully exploit the potential of the digital age.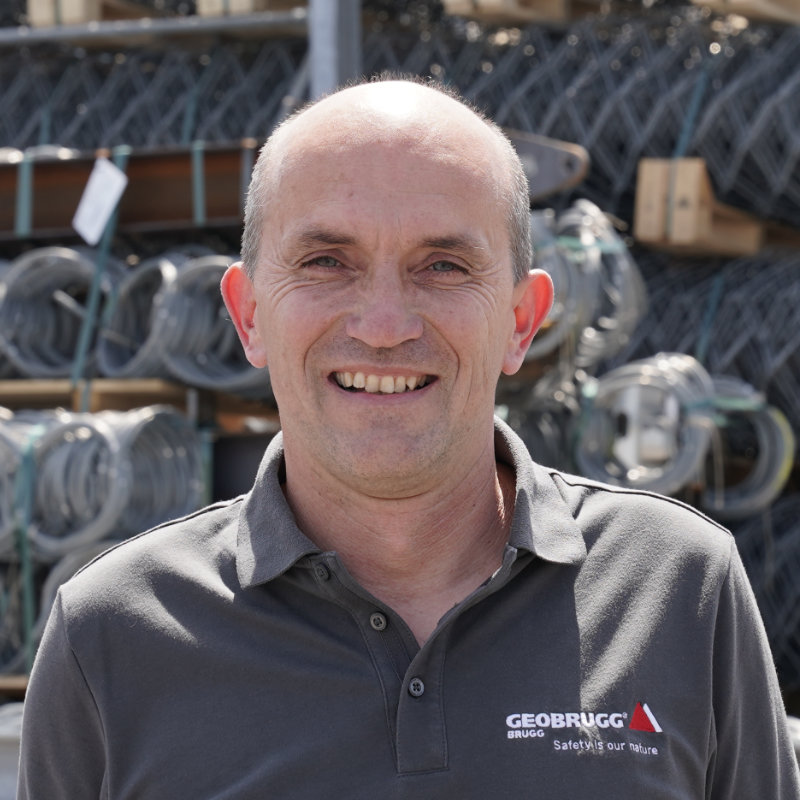 The complete solution, developed implemented step by step by Swisscom and Geobrugg, was individually tailored to specific requirements based on low-code and the Microsoft Power Platform. The focus is on a cockpit with data from all production sites and machines in the Microsoft Azure cloud. This Global Production Performance Cockpit went live in 2022 and is scheduled to be fully integrated by the end of 2023. The overall concept does not end with data storage, but also includes the downstream processes of analysis and processing.
Cross-location data storage according to Swiss standards
'It was important to us to be able to centrally store the data of all production sites in order to create transparency and a clear basis for evaluations,' says Jürg Atz, Head of Production at Geobrugg. 'As a manufacturing company, it pretty much goes without saying that you need state-of-the-art processes. What's much more important is that we know what we want to do with the data we collect.'
The current state of the systems can be documented and compared using a continuous filing system and an interactive and intuitive dashboard. For example, if the performance of a machine at the headquarters in Romanshorn is higher than that of a machine of the same design in Chile, this will no longer go unnoticed until the next Excel comparison. Instead, measures can be taken in a timely manner.
The conditions for fast implementation were almost ideal: Geobrugg introduced a lean management strategy very early on and made all their logistics and production paperless using a Microsoft ERP system. The data management was extremely clean – the right basis for the current digitalisation steps, which have already paid off, as Jürg Atz concluded: 'We were able to increase our efficiency by up to 15% in some cases. The time-consuming manual maintenance of Excel spreadsheets is now a thing of the past – the data is now updated in real time with just a few clicks. This creates transparency that enables us to control our manufacturing much more effectively.'
Digital Manufacturing Services
Industry leaders have increased their productivity by up to 90% through digital transformation. Swisscom specialists support you in the digitalisation of production.