Say goodbye to the classic meeting: hybrid meetings with participants in different locations are now the norm. However, for collaboration to succeed when some are working from the office and some are working from home, the rooms must be appropriately equipped and the employees must be prepared.
Hybrid meetings are the logical consequence of collaboration nowadays. Some employees are working from home, others are on the road or with customers, and others are in the office. An increasing number of guests from outside the organisation, such as customers, partners and service providers, are also taking part in meetings on a regular basis.
From video conferencing to hybrid collaboration
In a sense, hybrid meetings have been around for a long time: video and audio-conferencing solutions have been enabling meetings with participants from around the world for decades. Initially, the focus was primarily on technologies that permanently connected the conference room at one location with rooms at other locations. The equipment in the conference rooms and communication between the locations was very expensive, meaning that often only a few rooms at one of the company's headquarters were equipped accordingly. For this reason, such meetings were usually reserved for managers.
Today's hybrid working environment calls for different solutions and rooms that are generally suitable for lively discussions, idea workshops and project work in small groups, but also for large-scale meetings and meetings of the Management Board or Board of Directors. When working on projects or participating in workshops, a little video and audio alone are no longer enough to meet your needs; and when it comes to rooms for hybrid meetings, having the right equipment is key. The hardware and software used in the meeting room should be carefully selected to meet the requirements of both those present in person and those attending remotely.
Modern working
Employees and companies alike value flexible working arrangements. Find out how your company can also benefit.
An important element are the displays, which vary in number and size depending on the type of meeting and the number of participants. For example, a presentation can be displayed on one screen while the remote participants can be seen on a second. High-quality cameras, microphones and loudspeaker systems, as well as video conferencing and collaboration platforms are also useful. These include Microsoft Teams and Cisco Webex with integrated digital collaboration features and whiteboard solutions such as Google Jamboard and Microsoft Whiteboard. Equally important is the furniture, which should be suitable for the type of meeting room. In any case, it is important that the seating is consistently faced towards the camera and that the furniture supports good acoustics.
The variety of activities that can take place in hybrid meetings calls for rooms that are tailored to individual needs. 'One-size-fits-all' is no longer the case with conventional video conference halls. Instead, different room types and dimensions are used according to requirements. The aim should always be an immersive experience that gives remote participants the feeling that they are there in person.
Hybrid meetings: technology and more
A hybrid meeting solution includes hardware and software components, complemented by cloud services for collaboration, as well as tools and partnerships to implement and manage hybrid meeting technology, such as device management, centralised monitoring and centralised configuration capabilities.
For hybrid collaboration that goes beyond just video conferencing, we recommend interactive touch displays with a pen. Audio transmission requires a high-quality loudspeaker and microphone system for good speech intelligibility. Depending on the room, complex infrastructure such as ceiling-mounted loudspeakers and microphones are required to detect who is speaking and adjust their focus. For a truly immersive experience and a sense of belonging, only components designed specifically for hybrid meetings should be used.
Technology alone, however, is by no means enough. The increased productivity and improved efficiency that hybrid meetings and hybrid forms of working generally promise only come into effect if employees are enthusiastic about hybrid working and see the benefits for themselves. The employee experience is very important.
It is no longer enough to train employees on how to use the hardware and software or just throw a few manuals at them. Efficient use of new technologies requires a cultural change within the company, which needs to be supported at management level and backed up by careful change management. Only then can hybrid meetings and other forms of work reach their full potential.
Also read…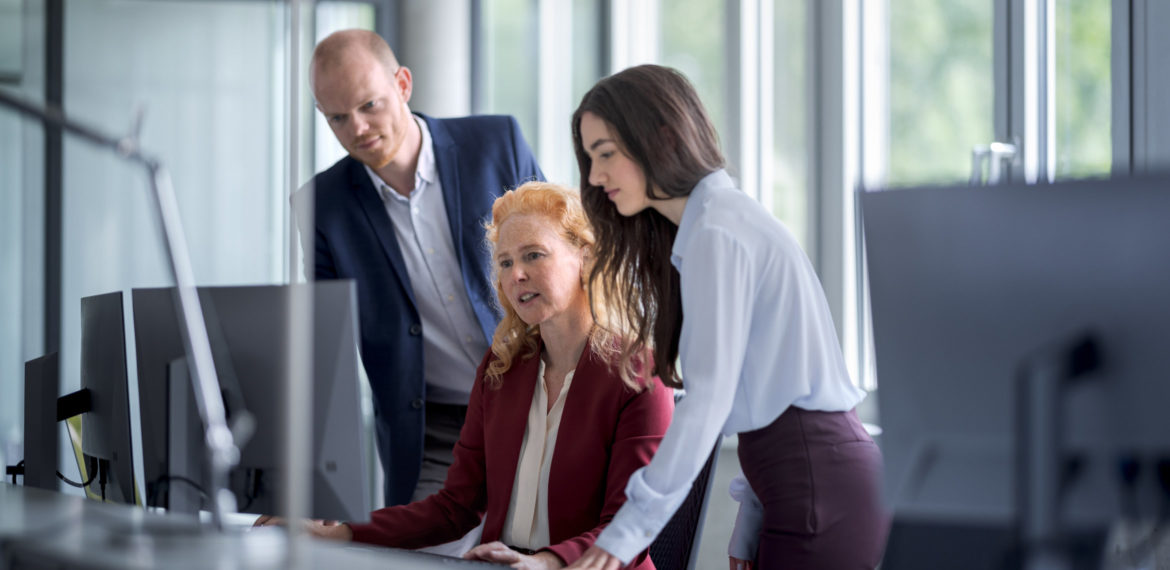 Seven action areas for successfully introducing modern working
Technologies are developing at breakneck speed – people, not so much. They need time to embrace change, gain knowledge and put it to good use.…
The industry leaders in hybrid meetings
Cisco Webex and Microsoft Teams are two popular video conferencing platforms for hybrid meetings. Both feature a wide range of features to enhance the hybrid working experience, are constantly being developed and include hardware, software and cloud-based collaboration platforms.
Cisco's portfolio includes the tried-and-tested Webex collaboration platform and hardware tailored to hybrid meeting rooms. These include various integrated systems with screen, camera and audio systems, separate cameras and, above all, interactive large-format displays. The latest generation is called Cisco Board Pro and is available with screen sizes of 55 and 75 inches. With two integrated 4K cameras, microphone and speaker array, the Board Pro covers practically all meeting needs in small and medium-sized rooms.
With its Teams Rooms hybrid meeting concept, Microsoft has quickly established itself as the provider of choice for many companies. For its hardware, Microsoft relies largely on third-party manufacturers such as Yealink, Logitech, Jabra and Poly, who have their devices certified for Teams Rooms. For interactive scenarios, Microsoft uses the Surface Hub 2S or cheaper solutions from third-party manufacturers such as Yealink.
Until recently, Microsoft or Cisco was an either-or-decision. Cisco boards and conferencing hardware could only be used with meeting software other than Webex via additional licenses. Since 2023, however, a partnership between Cisco and Microsoft has allowed the integration of Cisco hardware in Microsoft Teams Rooms, and thus the seamless integration of multiple platforms.
The partnership between the two suppliers allows companies to take advantage of the strengths of both manufacturers. This allows you to benefit from a multi-vendor strategy and choose the most suitable solutions, and everyone who arranges hybrid meetings can benefit from this.
Best practices for hybrid meeting rooms
Decide on the type of meetings that should take place in the rooms. This will help determine the right room size and equipment.
Invest in high-quality cameras and microphones. Good audio and video quality is essential for effective communication.
Take the size of the room into account. One or more large screens or projectors are often more suitable for large meeting rooms, while in smaller rooms an interactive touch display with whiteboard functionality may suffice. Possible allocations would be either according to a categorisation based on the usage scenario (standard meeting vs. interactive room) and room size ( 7.5 m / > 15 m) or T-shirt size as follows:

Room size S: focus room for brainstorming and collaboration, for three to five people.
Room size M: rooms with conference furniture for up to 11 physically attending participants.
Room size L: larger rooms suitable for official presentations, large team meetings and collaboration in larger groups, for 18 or more people.
Room size XL: hall-like rooms for a large audience, such as for lectures.

For each room type, select a fixed, standardised setup with a uniform operating concept across all room types and ensure it is tamper-proof. The cabling should be as hidden from sight as possible and the system should be usable without remote controls lying around. This allows participants to find their way around every room immediately. Train and support your employees in using the devices by introducing the people in the organisation to hybrid working methods and the effective use of technology in a meeting context. This ensures that all participants feel comfortable with such methods and can work safely and productively.
Hybrid meeting rooms only deliver benefits if they function smoothly. Think about change management in the company and the operation, support and life cycle of the technology so that everyone can enjoy the rooms and hybrid meetings in the long term.
Modern and flexible working
Employees and companies alike value the benefits of flexible working opportunities. Find out what it takes to achieve this and how your company can also benefit.