Cameras enable us to record the most important moments in our lives. And then share the photos with our friends or send them to grandparents or grandchildren to make their day. Nowadays, we can get more out of our photos than ever before – even old ones!
Photos are emotions, captured in an image. Digitalisation makes it easier to edit and share these memories. Gone are the days of having to change the camera film every 36 photos (at most!) and then waiting for weeks for the prints to arrive in the post.
Now, we can take photos with our digital cameras or smartphones and share them right away, by email, instant chat or – best of all – via an online photo album. Because great photos deserve a great frame. But where we used to stick physical photographs into an album, we can now view photos digitally, on computer screens or on the TV in our living rooms. So you can enjoy reminiscing with your loved ones about your favourite moments, whether you're all together at home or far away. One example of an online storage system for photos is Swisscom myCloud. With this service, you can not only access your photos on your smartphone and computer, but also via Swisscom TV.
Edit photos directly in myCloud
Admittedly, the photos we take on our digital cameras aren't always that impressive – sometimes they might have a dull sheen, a colour cast or a wonky horizon. It's a good thing you can edit your backed-up photos directly via myCloud. Too much space at the edges? Just crop it! Sometimes just adjusting the contrast or the colour intensity can work wonders. And if something goes wrong, you can just undo it.
To edit photos in your internet browser, select the photo you want to edit and click on "Edit" in the blue navigation bar. In the app, you can access the editor by tapping the pencil symbol or "Edit". Once you've finished, you can either save the edited photo as a copy or replace the existing one.
Organise photos automatically
The digitalisation of photography does have a downside, however: we take a lot more photos than we used to, which then sit on our smartphone or computer, vaguely organised, if at all. And we need to decide for ourselves which one of the 19 sunset shots we want to keep. But myCloud helps you sort your photos. You can retrieve your uploaded photos by location or date. For this function, you need a camera that supports GPS and records the coordinates in the photo. The date and time also has to be correct. Later on, this automatic organisation will save you a lot of effort when you want to make an album of the day you went to the zoo with your (grand)kids. You can change the order of the photos within your albums at any time.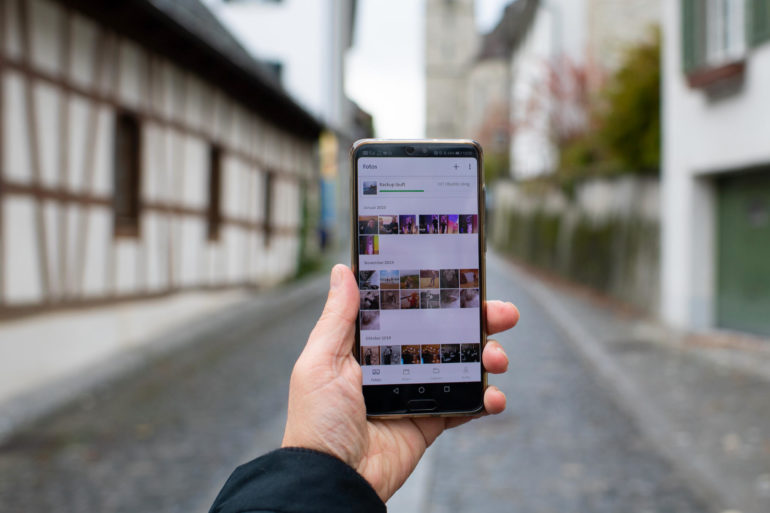 Thanks to the myCloud app for Windows and macOS, photos transferred from your digital camera to your PC can also be added to the album. It's an easy way to combine smartphone and camera photos in one album.
Share albums with family and friends
If you want to show your photos from the zoo to your parents(-in-law), you can just share the album. So everyone gets to enjoy the memories of that unique day!
With shared albums, everyone can share in the experience, wherever they are. Your family and friends don't need to have myCloud themselves in order to access the albums. And you can look forward to seeing their comments, because shared albums offer the option of commenting on photos.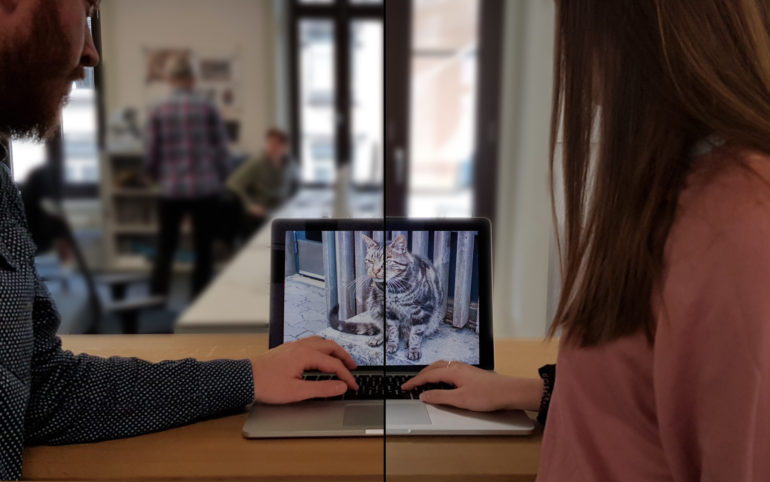 You can also use a shared album to compile snapshots of an event you all experienced together, with everybody adding their own photos. It's always surprising to discover what the other guests managed to capture at the last family party!
Photo evenings just like the old days (only better!)
Photos don't really come into their own on a smartphone – the display is just too small. A computer screen is a little better. But you can't experience your photos of that day at the zoo in all their glory until you've seen them on a TV screen. Especially if your TV has a 4K-resolution (Ultra HD) monitor that displays your photos in full detail. Now there's nothing stopping you from enjoying a cosy evening with your friends and family, looking through photos together.
Maybe you could kick the night off with a tasty meal before you all settle in front of the TV in the living room and start reminiscing together about your trip to the zoo or your last holiday. After all, those memories take on a whole new quality when they're projected on a big TV screen rather than displayed in an old-fashioned photo album.
This article has been revised